Best Dive Bars in Key West
07/17/2019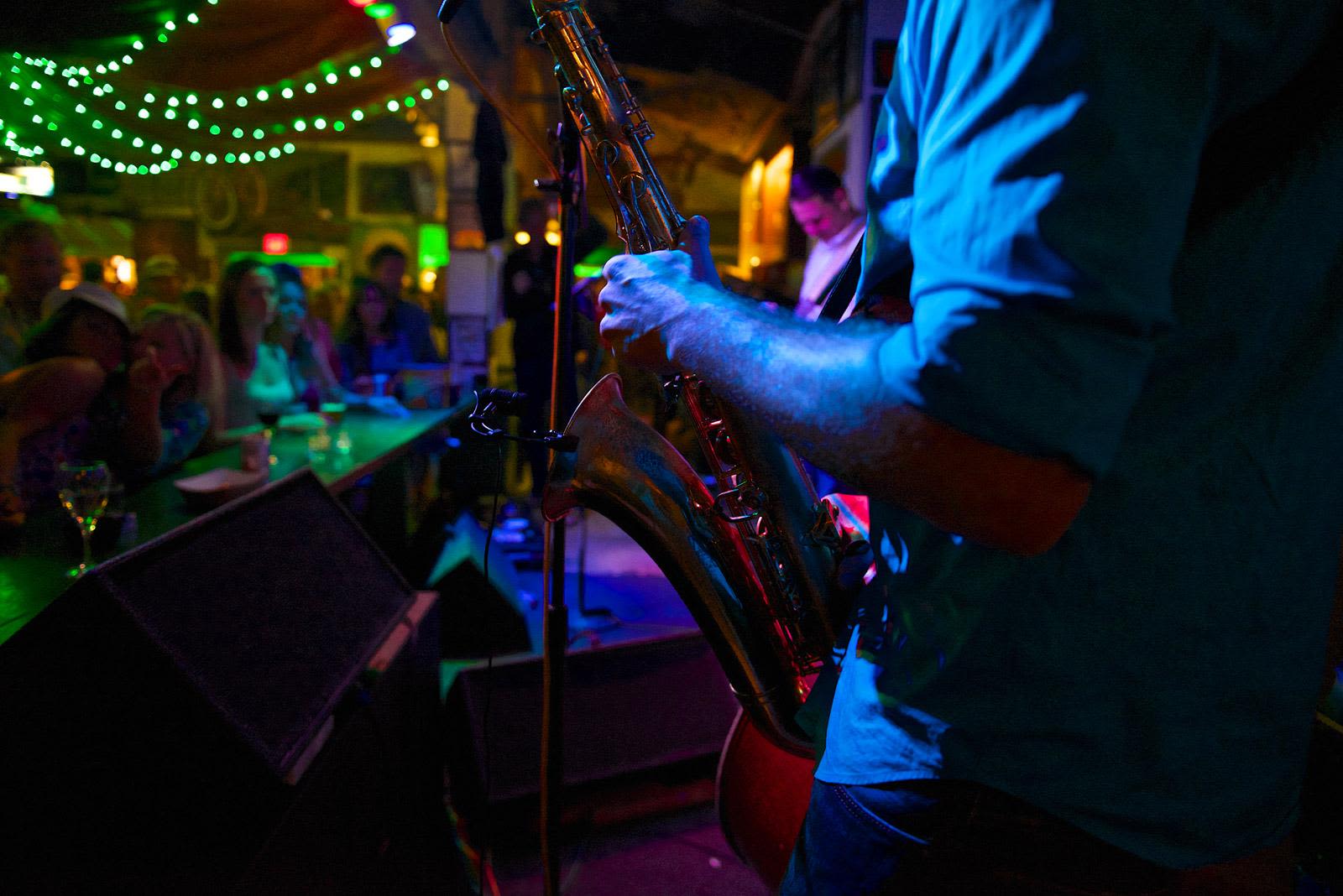 First things first, what the heck is a Dive Bar? According to Wikipedia, "Dive bar is a colloquial American term for a disreputable bar or pub. It may also refer to a neighborhood bar where local residents gather to drink and socialize. Individual bars may be considered to be disreputable, sinister, of poor upkeep, or even a detriment to the community."
Today we spotlight the best dive bars in Key West: The Green Parrot, Captain Tony's Saloon, Chart Room and Schooner Wharf Bar. Each offers a unique island experience!
The Green Parrot
The Green Parrot is more than a bar; it is a Key West icon; it is Key West. It has been so many things, to so many people, for so many years. And that spirit will never change.
Day or night, this is the place to sit back, enjoy cool drinks, chat with new and old friends, and enjoy the funky Key West vibe and live music scene while you're there. This is a favorite of both locals and Key West visitors alike, especially during the popular "soundchecks" at the Parrot.
You'll definitely want to mark your calendar now and add "soundchecks" to your must-see and do while visiting Key West. Friday, Saturday and Sunday 5:30 to 7 PM is when "soundchecks" happens at the Green Parrot! It's where you can enjoy a full 90 minute set of great music. To find out who is playing ahead of time, take a look at the Green Parrot Live Music Calendar.
Travel & Leisure describes The Green Parrot experience perfectly. "Founded in 1890, the Green Parrot Bar is yet another one of Key West's famed, been-there-forever dive bars. They proudly describe themselves as "a place of hijinks"—the kind of bar that has hosted everything from tattoo contests to pet birthday celebrations. It's a little rough around the edges, but that's just part of its charm. Also beloved: its daily lineup of live music and weekday happy hour."
The Green Parrot
601 Whitehead Street, Key West, Florida
(305) 294-6133
Open 7 days a week 10am - 4am
Captain Tony's Saloon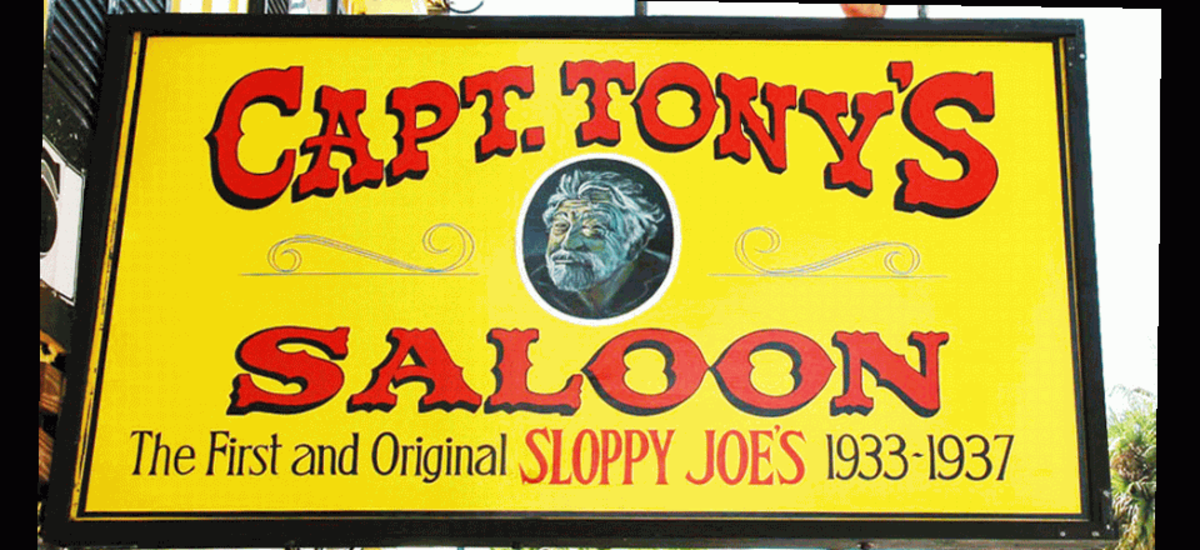 Yes, Hemingway drank here, and it actually was the original Sloppy Joe's. On Captain Tony's sign, it prominently states, " The First and Original Sloppy Joe's 1933 - 1937." There is soooo much history and oh my if those walls could talk! Dollar Bills hang from the ceiling, live music daily in an old, historic, and unique bar setting in Key West. Some say it's even haunted.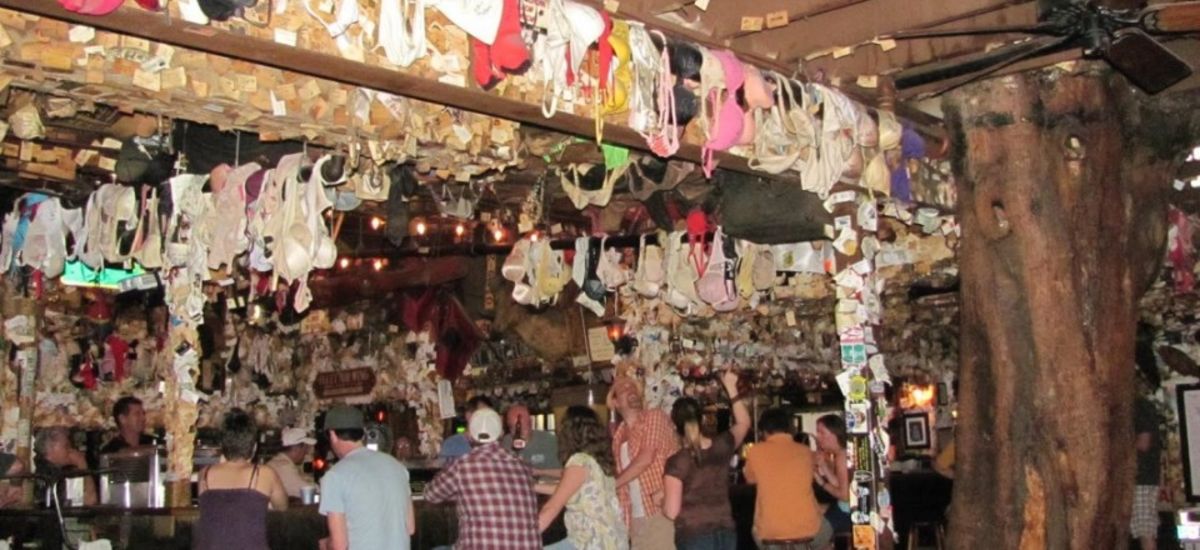 Legends drank here! In addition to Hemingway, Truman Capote, Tennessee Williams, Shel Silverstein, and Jimmy Buffet, Captain Tony's Saloon is not just a bar; it is a piece of living history.
The decor speaks for itself: dollar bills, bras, and even license plates decorate this historic venue and bar.
Who was Captain Tony? He was another legend bigger than life, a ladies man, a Key West character and believe it or not he was even the Mayor of Key West. Some would often describe him as a dropout from a Hemingway novel.
Historic Dive Bar, Review of Captain Tony's
"Being a Hemingway fan, I had to have a drink in Cpt, Tony's. This was the original Sloppy Joe's. The history and vibe of this joint are more than apparent. Former brothel, former location where pirates were hanged, (the hanging tree is live and well in the center of the bar), former Hemingway haunt, etc. I consider myself to be a "dive" bar groupie, and this is one I will remember for the rest of my life. This is a MUST DO for anybody wanting to have a drink and a unique bar experience in one of the most historic bars in the U.S. Cheers Hem! ~ Canadian Shane, via TripAdvisor
Photo Credits; Captain Tony's Saloon
Captain Tony's Saloon
428 Greene Street
Key West, Florida
Open daily 10am - 2am
Learn More about Captain Tony's
Chart Room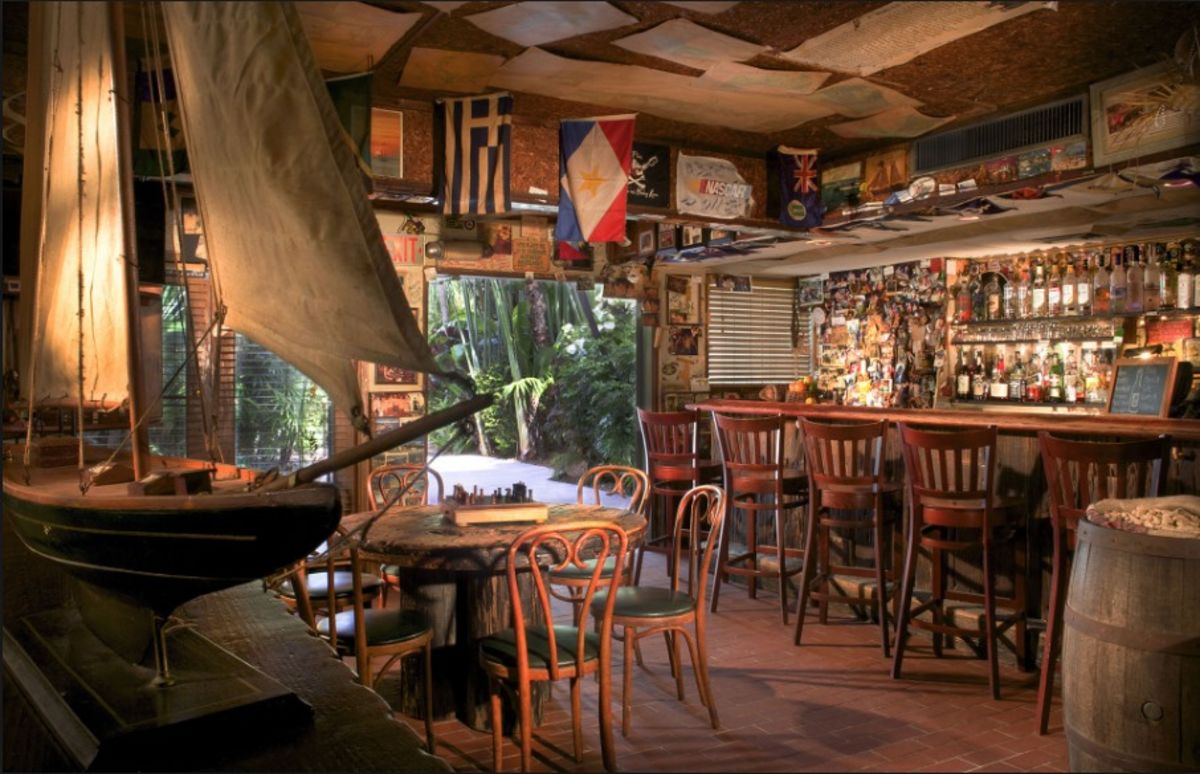 Photo Credit: Chart Room Bar, Pier House Resort
The Chart Room is not your average dive bar and is located off the beaten path on the grounds of the Pier House. It's a hotel-room-turned-bar that turned out to be a hidden Key West gem! It's much smaller than your average dive bar; however, it is another one of those places that have so many stories to tell, and if you go there you'll find a few of our Key West Characters today drinking and storytelling and our local bartenders will also take the role of historian during your visit. Famous people have also found this to be a getaway to gather with friends: Jimmy Buffett and Captain Tony are just a few. It's definitely more of a locals hangout, and once you step foot in this small watering hole, you'll walk out with new friends and be part of the Chart room family. Enjoy free popcorn, peanuts and great bartenders ready welcome you to another unique bar experience on the island.
Jack Netter described The Chart Room on Google like this, "Quirky little place with interesting people. Totally worth a stop!" We agree!
Chart Room Bar
One Duval Street
Key West, FL 33040
Chart Room Hours 4:30pm - 2:00am
Schooner Wharf Bar
Steps from our Key West Resort, located at the foot of William Street on the historic harbor walk is where you'll find one of the coolest open-air watering hole dive bars on the island. Welcome to Schooner Wharf Bar, a little last piece of Old Key West. Morning, noon, or night this place is open and an experience to be had by all visiting our island. It serves up great drinks and food, great conversation, live music, and it has a second-floor deck with spectacular views of the yachts, schooners, and sails at Key West's historic seaport.
There are a ton of events happening at Schooner Wharf Bar throughout the year including Fantasy Fest and other Key West festivals, the New Year's Eve Pirate Wench Drop from atop a tall ship's mast, the Minimal Regatta in May and so much more.
View the Schooner Wharf events calendar.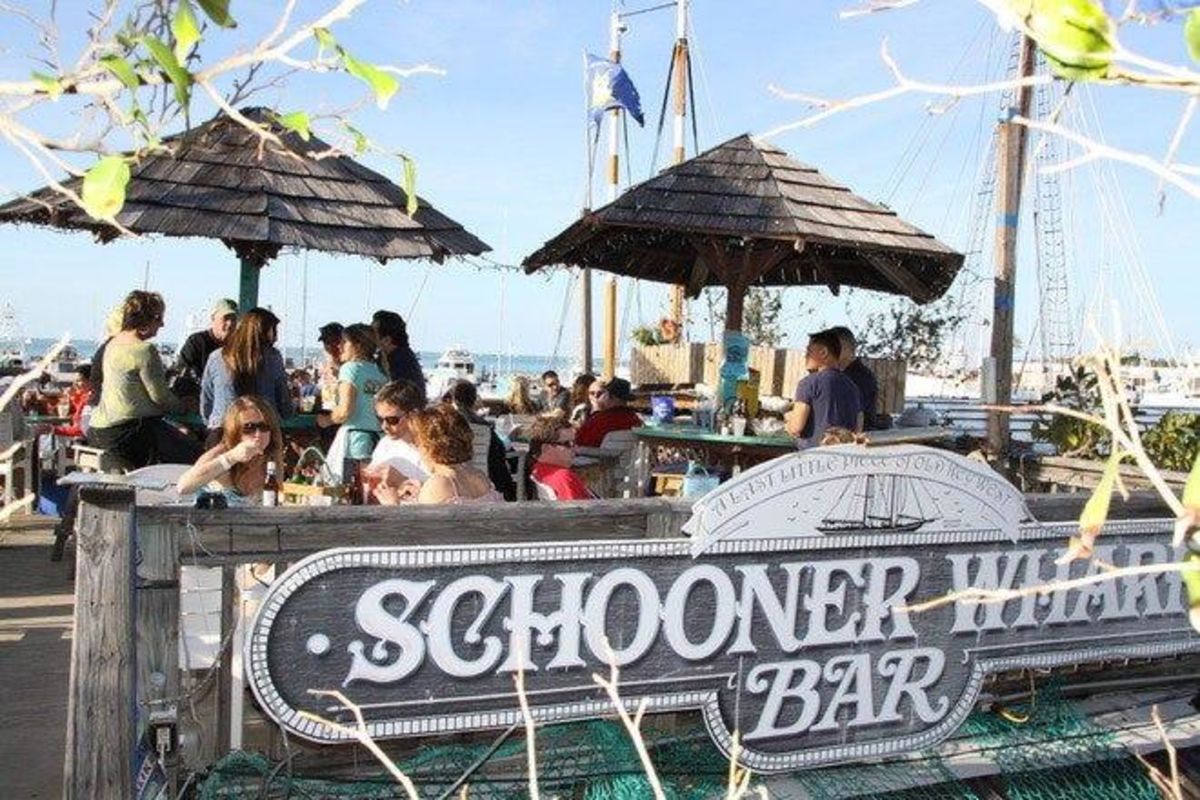 "Settle into the open-air bar and listen to the daily live music, while you people watch. Animal lovers can bring their dogs--or their parrots--to hang out. Specialty drinks such as Schooner Lemonade, Rumrunners and Mango Daiquiris are featured during the bar's three happy hours. Keep an eye on their calendar of events! Schooner Wharf has theme-night events throughout the year."
So, pull up a barstool, order an ice-cold beer and strike up a conversation with the person next to you. You'll never cease to be amazed by the characters you meet at Schooner Wharf Bar; a last little piece of old Key West you'll want to return to again and again.
Schooner Wharf Bar
202 William St
Key West, FL 33040-6645
Open 7am - 4am
Learn more about Schooner Wharf Bar
Do you have a favorite dive bar in Key West? Tell us about it and share your photos and experiences with us! #lovethemarker
Posted on 07/17/2019