Best Spring Festivals in Key West
03/12/2019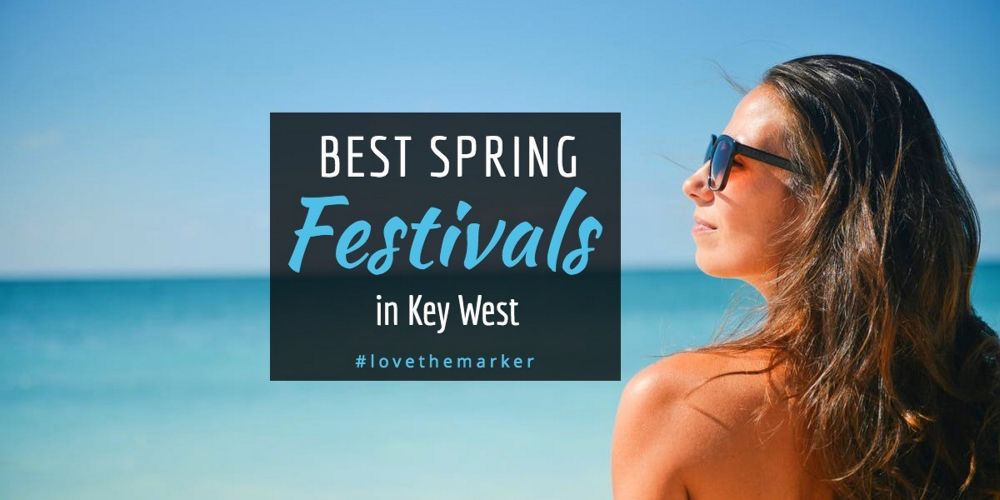 These five Key West festivals include everything we love: art, food, music, parades, and a ten-day birthday celebration.
Time to celebrate and share the fun, funky and fabulous Florida Keys Festivals taking place right here in Key West this spring. Start planning your trip and take a look at the creative and unique festivities in April and May. There's a taste of Key West, parades and costuming events, a Songwriters Festival, a themed run event that anyone can take part in and a week-long celebration of our beloved Conch Republic. Welcome to the best spring festivals in Key West!
Here's What's Happening In April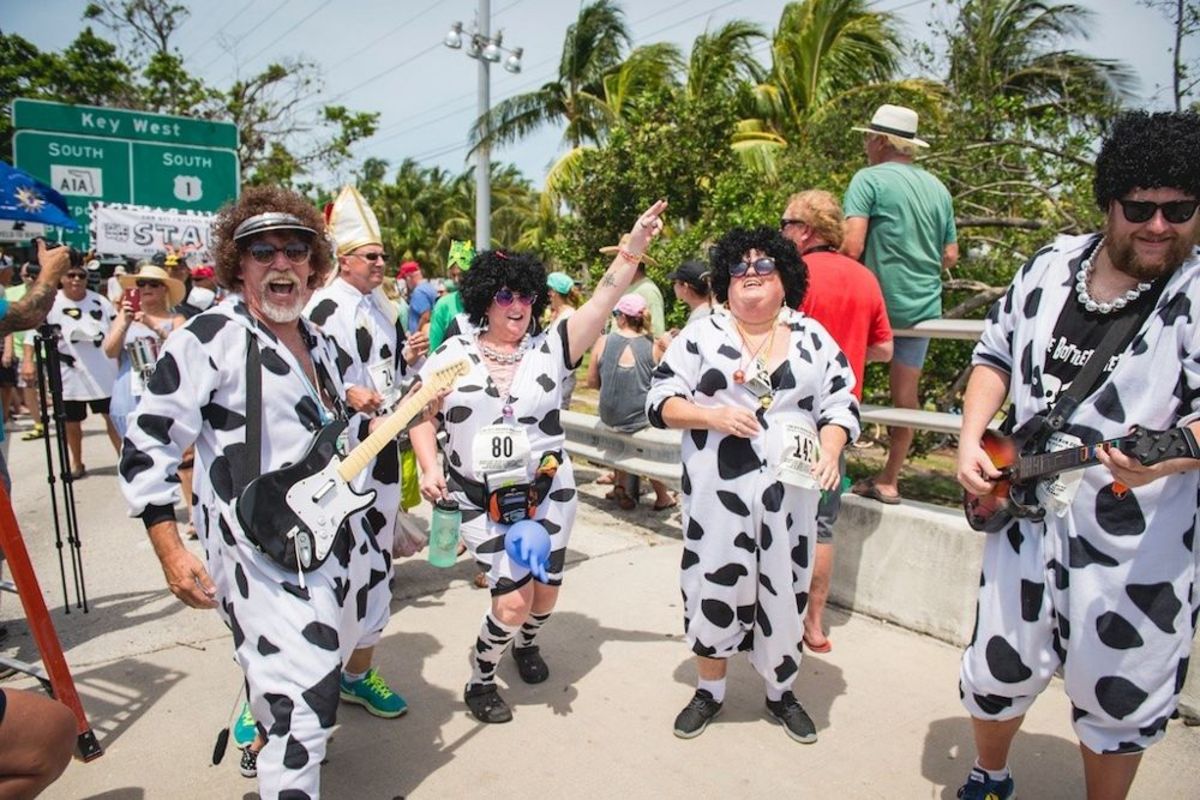 6th Annual Cow Key Channel Run
Sunday, April 7th High Noon
This 300-foot mock marathon takes place over the Cow Key Bridge and features the most Cowtastic, hilarious, costumed runners, walkers and teams. It's also a pet-friendly event. The 2019 theme is Pirates of the Cowibbean, and there will be prizes and awards for the fastest, slowest, best costumed and more. Check-in time is 10-11: 30 am at Stock Island side of Cow Key Channel. This quirky quick fun run has become another local favorite and best news is you don't have to train for it. Visit the Cow Key Bridge Run website to learn more. (Photo credit: Tom Flip + Nick Doll, Cow Key Bridge Run.)
24th Annual Taste of Key West
April 15th, 6:00-9:00 pm at Mallory Square, 400 Wall St.

Welcome to A Taste of Key West, a culinary adventure at Sunset and a three-hour foodie spectacular showcasing Key West's finest restaurants to benefit AIDS Help. Mix and mingle with the locals for a great cause at the world famous Mallory Square and get ready to visit more than fifty Key West restaurants offering delicious tapas-sized portions, fine wine selections and more.
General Admission tickets include $20 in food tickets and a wine or pint glass.
Package options:
Foodie Package: Plate and 20 food tickets
Sipper Package: Choice of glass (wine or pint) and 20 food tickets
Date Night Package: Choice of 2 glasses (wine or pint), 2 plates, and 50 food tickets
Company Package: 5 plates, 5 glasses, and 150 food tickets
Additional Food tickets: 25 food tickets for $24, 50 food tickets for $45
Get tickets and learn more about the 24th Annual Taste of Key West.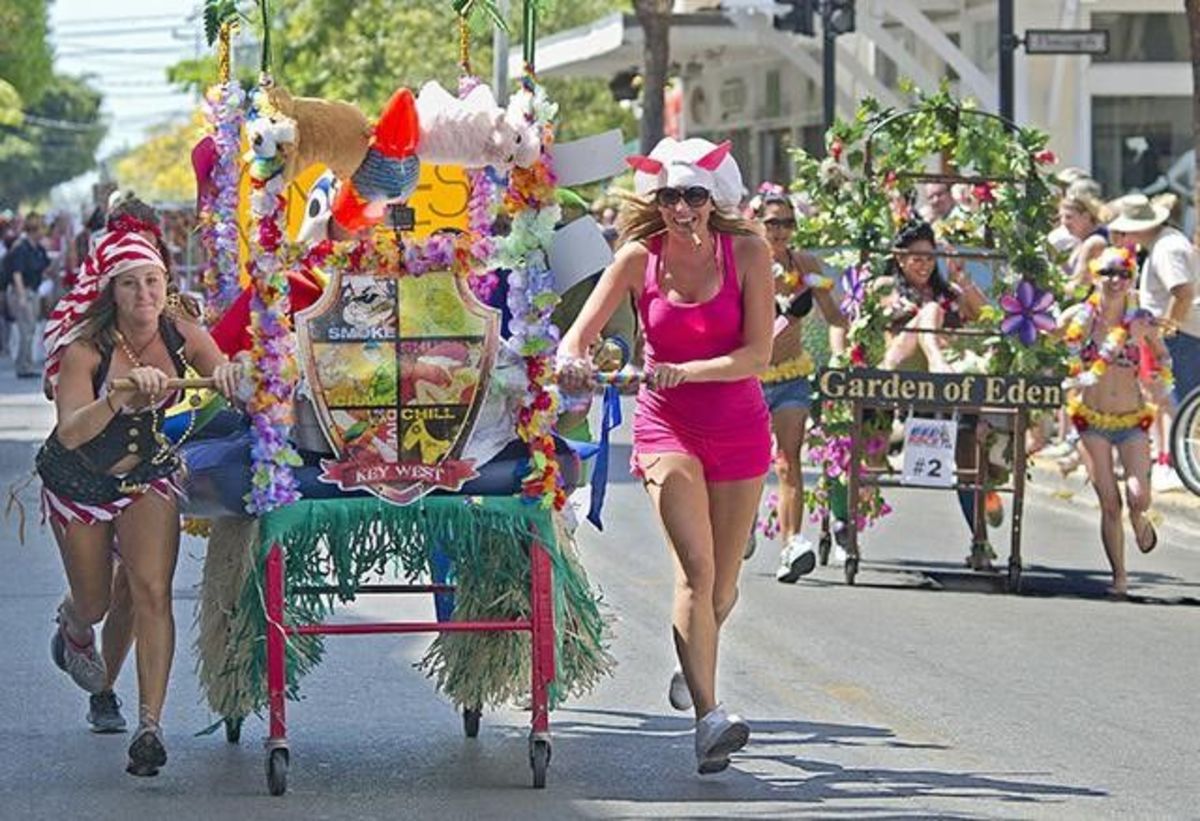 Conch Republic Independence Celebration
April 19th -28th
A ten-day celebration of Key West's brief secession from the United States. Event highlights include bed races on Duval Street, conch shell blowing contest, arts & crafts show, Duval Street Parade, and the infamous bloody battle in Key West harbor where Conch Republic vessels toss stale Cuban bread at Coast Guard vessels and each other in a mock secession. The kick-off party is Friday, April 19th at 7 pm, at the Schooner Wharf bar, located steps from our resort. (Photo Credit: Rob O'Neal/Florida Keys News Bureau/HO)
Visit the Conch Republic Independence Celebration website to learn more about this ten day celebration.
Here's What's Happening In May

4th Annual Papio Kinetic Sculpture Parade
Parade starts at Noon on May 4th
Kinetic Sculpture Parade takes place on Saturday, May 4th at noon in front of the Key West Art & Historical Center Custom House on Front Street (it's the big red brick building you can't miss it). The Key West community, young and old, gets creative to show off their human-powered artworks. All parade participants re-purpose found objects into moving art. Categories include art bikes and kinetic sculptures. The parade starts at noon in front of Customs House at 281 Front Street. For more information visit the Papio Kinetic Sculpture Parade website.
*This is another fun family-friendly event. (Photo Credit from 2018 Papio Kinetic Sculpture Parade are by Michael Blades, Mark Hedden, Zoe Norbom, Carol Tedesco, Virginia Wark, & Johnny White (Mile Zero)
24th Annual Key West Songwriters Festival
May 8th - 12th | 200 + Artists, 50+ Shows + Free Concert on Duval St.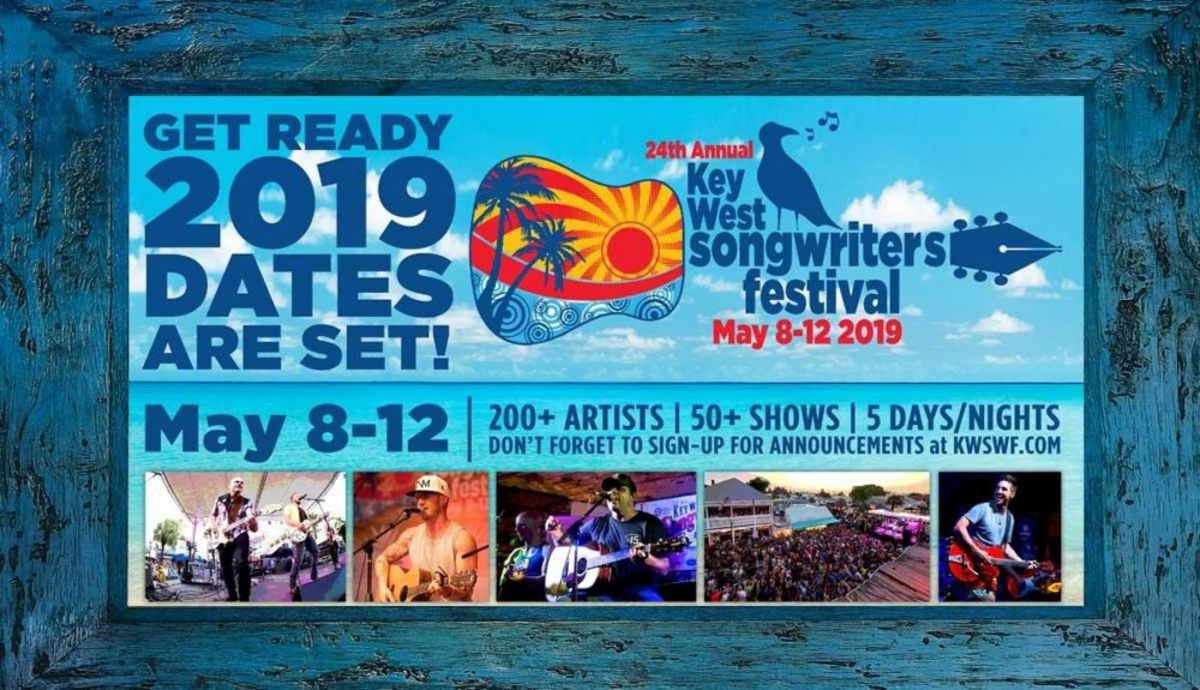 One of the best music festivals that exist! This event features more than two hundred songwriters performing at indoor and outdoor venues around the island, and that includes a Songwriters performing right here with us at The Marker Resort. This is another one of our favorite events because our guests and visitors have the opportunity to tune in and connect with the songwriters and the music in a unique island setting. Most of the Songwriter events are free, some are paid, and there is a must attend a free concert on Duval Street on the weekend. The Marker Resort is a proud sponsor of the 2019 Key West Songwriters Festival.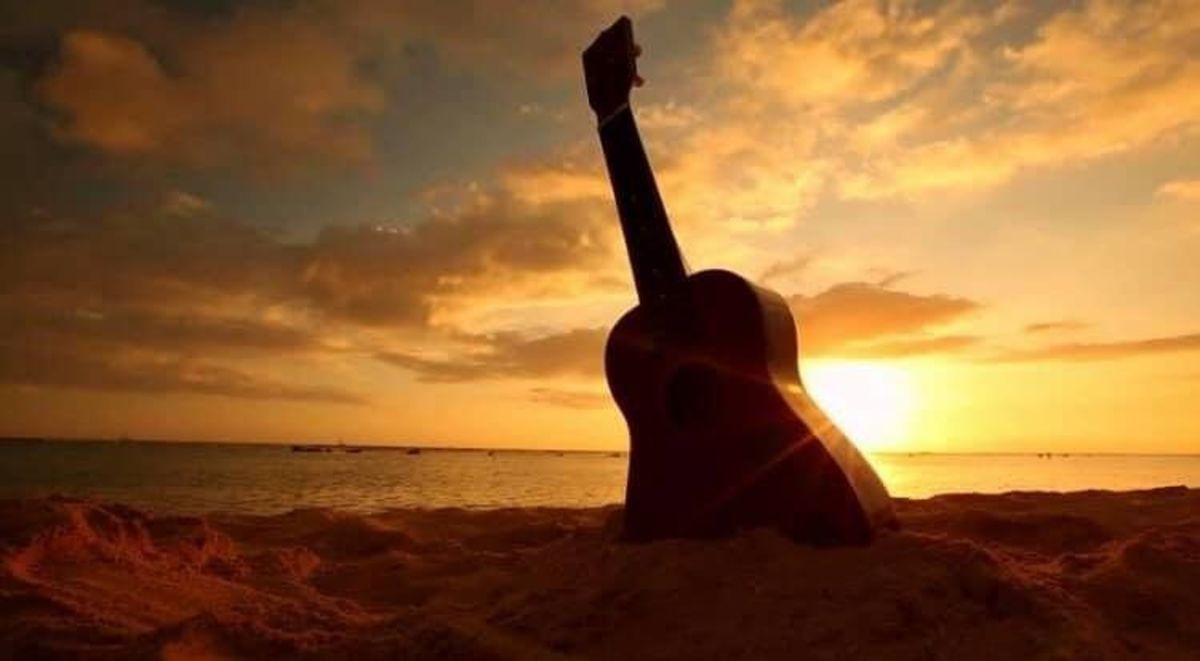 Photo Credit: Key West Songwriters Festival Facebook Page
'Cause when the sun goes down, we'll be groovin'
When the sun goes down, be feelin' alright
When the sun sinks down over the water
Everything gets hotter when the sun goes down ~ Kenny Chesney
The festival lineup and schedule of events will be online soon so keep checking Key West Songwriters Festival Website for updates as we are days away from the announcement.
Key West Festival Tips:
Plan ahead and get your tickets in advance.
Stay hydrated and drink plenty of water.
Cover up with plenty of sunscreen and don't forget hat and sunglasses.
Wear comfortable shoes.
Get creative! If it is a costumed event then dress accordingly and join in on the fun!
Follow us on Facebook and Instagram stay up-to-date on all Key West events and happenings at The Marker Resort. #lovethemarker
Book Your Last Minute Spring Vacation Today!
The fun never ends in Key West and as we always say, there's always something happening in paradise. Stay connected and share your favorite moments and memories with us.
#lovethemarker
Posted on 03/12/2019