Family Friendly Things To Do in Key West
06/02/2019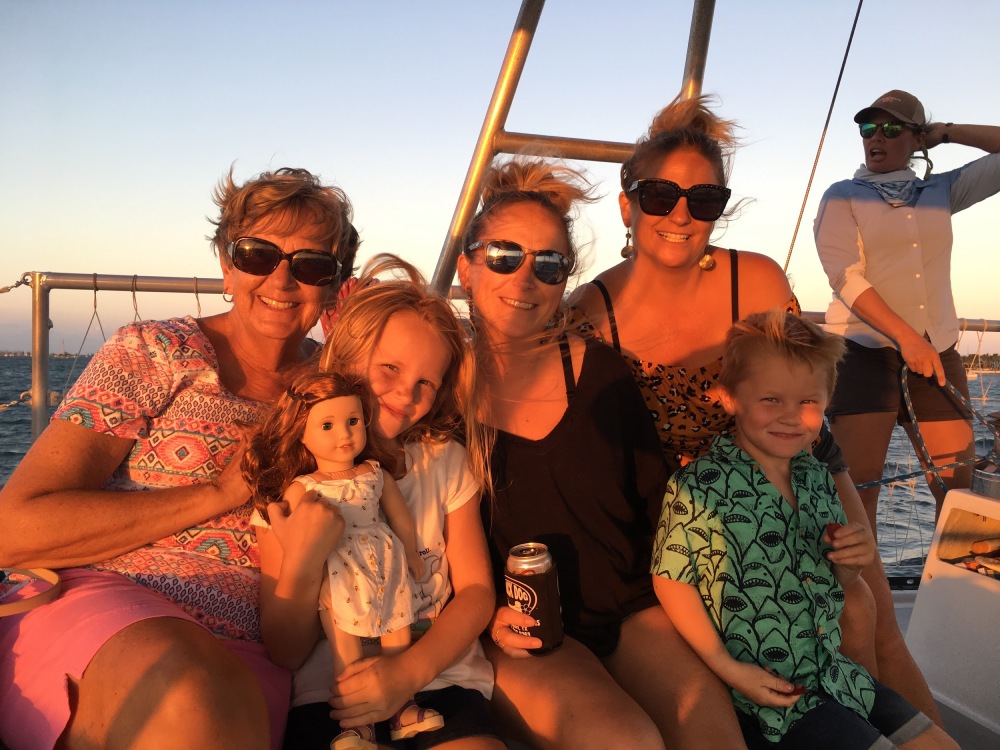 Family vacations are all about creating special memories that will last a lifetime and what better place to do it than Key West, Florida. Today our blog is all about kid-friendly, and kid-approved fun family outings and adventures in paradise, and it all begins footsteps from our resort. Here are a few must see and do, tested and true, things to do that are kid friendly and family approved.
Historic Seaport Stroll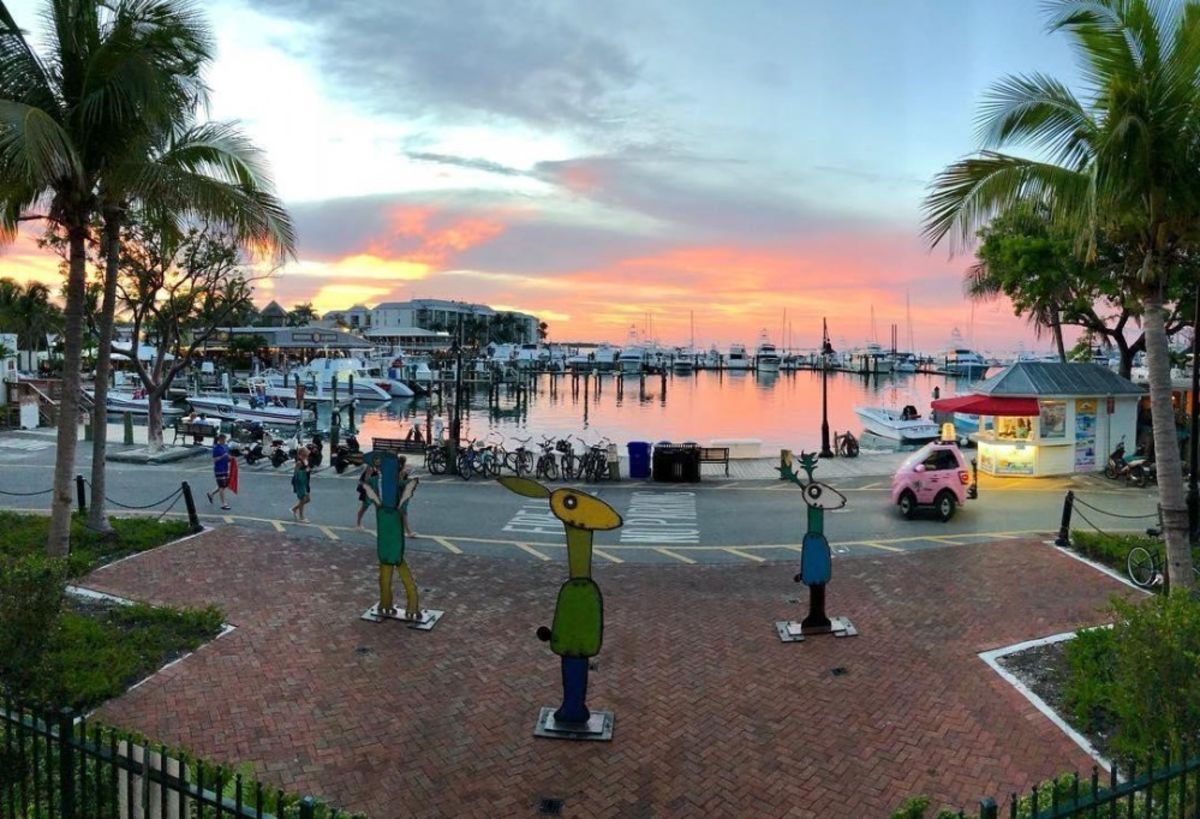 Photo credit: @ddshea1 on Instagram
One of the most scenic strolls on the island just happens to be in our backyard - the Key West Seaport and Historic Harborwalk - decorated with big boats and sails, excursions and colorful sunsets. Take a walk through Lazy Way Lane and visit the unique shops and boutiques, galleries, food shacks, and some of our most excellent waterfront restaurants. Stop and get some ice cream and just sit back and enjoy the view. It is also the departure point for the fishing, boating, snorkeling and water sports excursions. The fun begins right here, just steps from our Key West Resort.
Visit the Key West Aquarium & Shipwreck Museum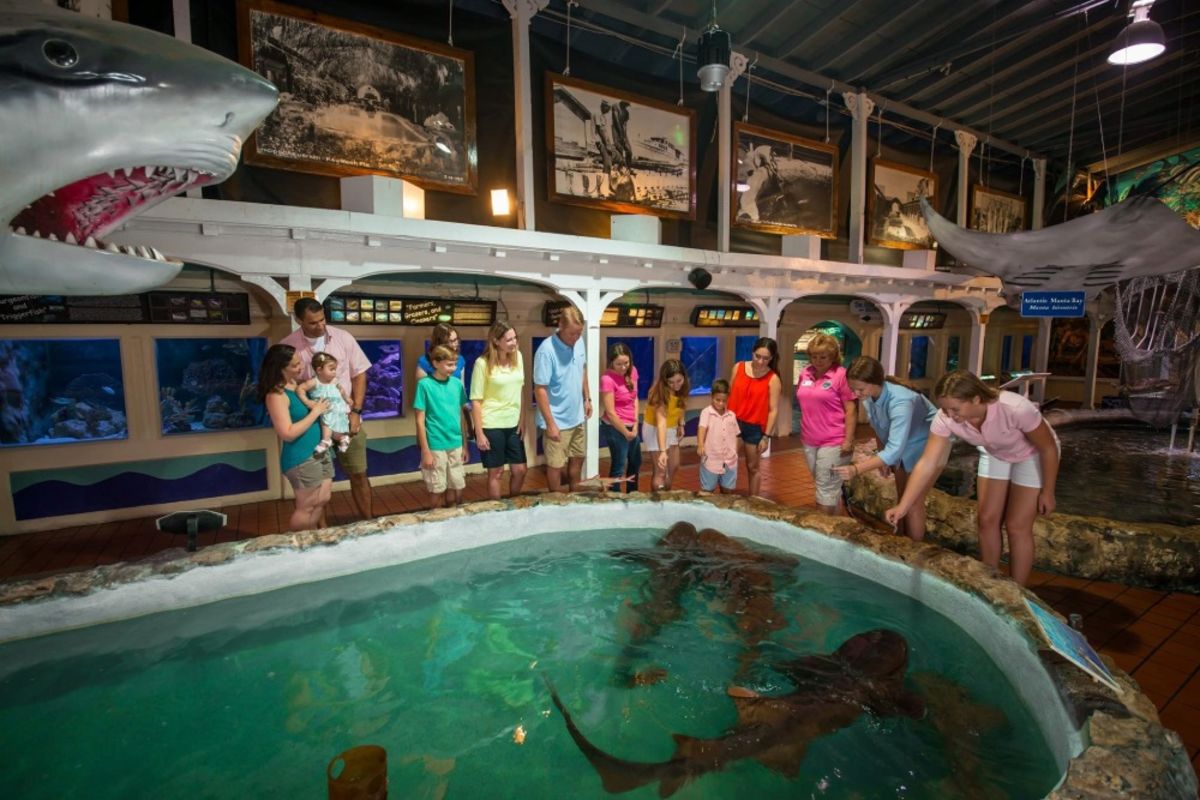 Photo Credit: Key West Aquarium Facebook Page
Located in the world famous Mallory Square, the Key West Aquarium is one of the island's most popular attractions. 'It's also one of our favorites where 'you'll have the opportunity to meet our undersea residents including fish, turtles, sharks, birds and see stingrays, eels, lobster, tarpon, seahorses and colorful tropical fish. They even have a Touch Tank where you can pick up amazing animals. Meet some of the 'sea's most interesting creatures with the Key West Aquarium guided tours. Feedings and tours take place at 11am, 1pm, 3pm, and 4:30pm every day. Hours Open: 10:00 AM - 6:00 PM. | Key West Aquarium, 1 Whitehead Street, Key West.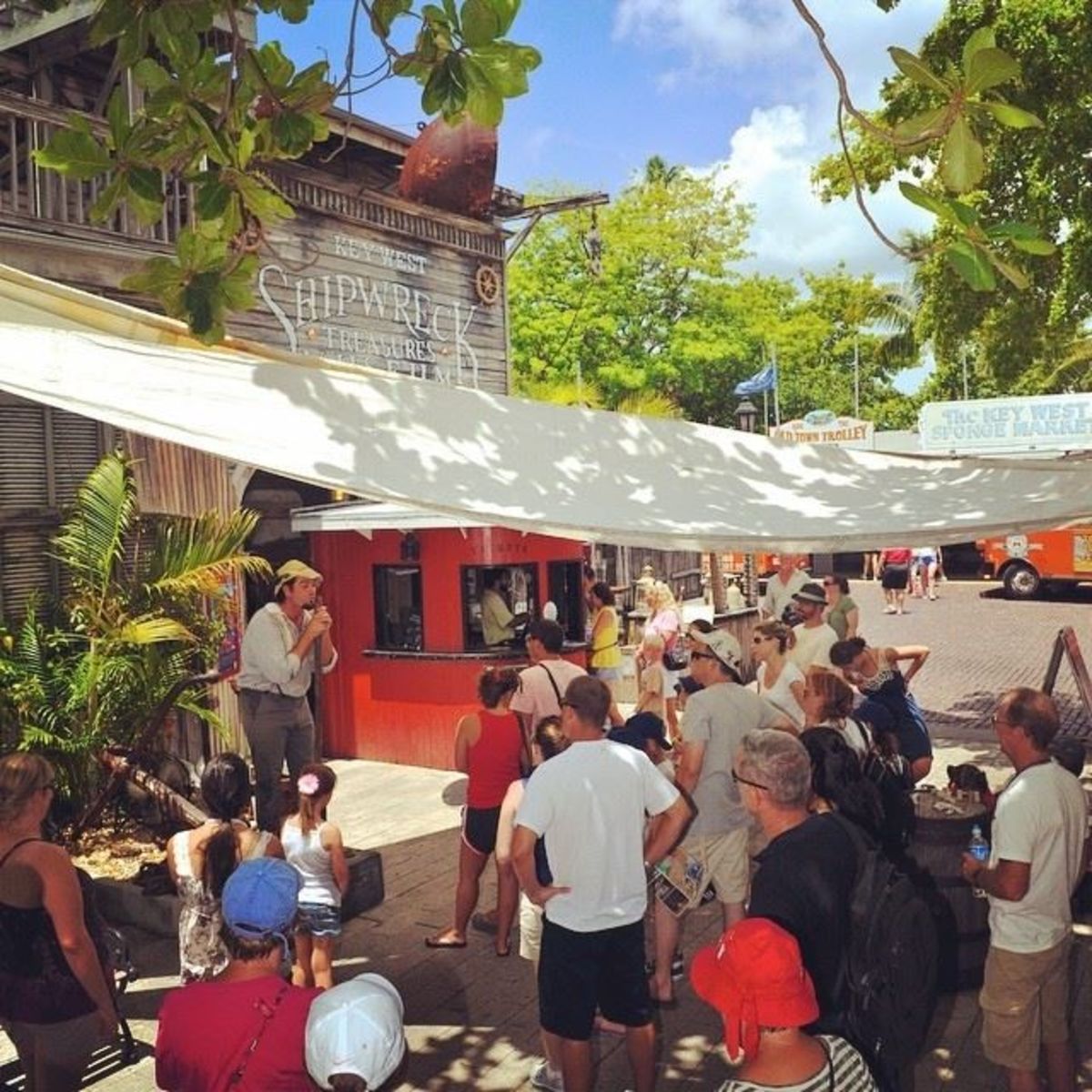 Photo Credit: Key West Shipwreck Museum on Facebook
Get ready to go back in time and discover the history of Key West's shipwrecking past at the Key West Shipwreck Treasures Museum. You'll see shipwreck artifacts that fill the museum which is a recreation of 19th-century wrecker's warehouse. Storytellers, in period costume, bring history to life with tales ensuring a fun and fascinating experience for the entire family. Make sure to climb up to the 65-foot captain's observatory - it's a sight to see.
Buy Tickets: Key West Aquarium and Key West Shipwreck Museum Attraction Passes here.
Key West Shipwreck Museum, 1 Whitehead Street, Key West, FL 305-292-8990
Learn more about Key West Shipwreck Museum and the Key West Aquarium.
Get out on the water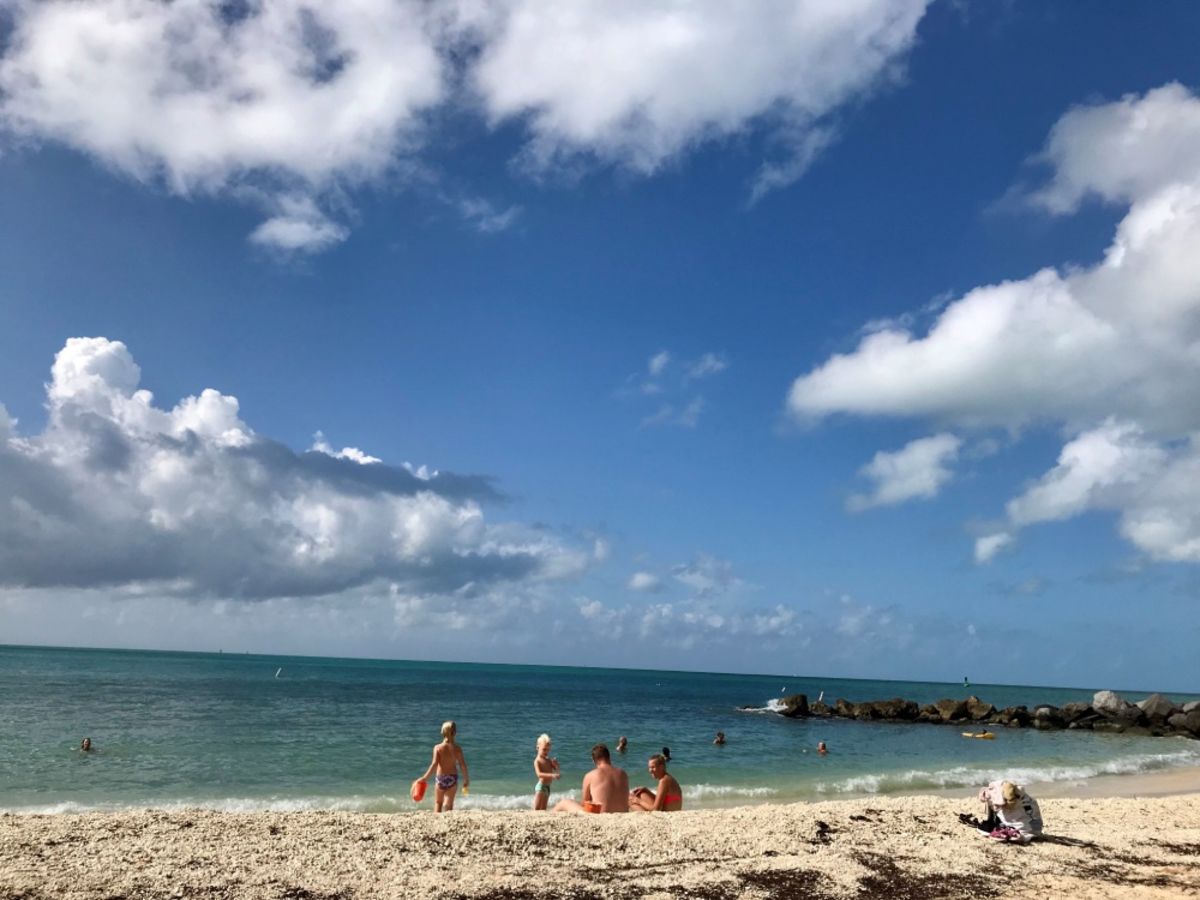 A day at the beach, Fort Zachary Taylor, Key West, Florida
Go swimming, snorkeling, kayaking, and explore our underwater playground. Enjoy our beautiful beaches, hang out by the pool or go for an afternoon sail. It doesn't matter where you spend your time as long as you do it together. Visit the concierge to learn more about the right water adventure for your family.
Splish Splash at the Water Park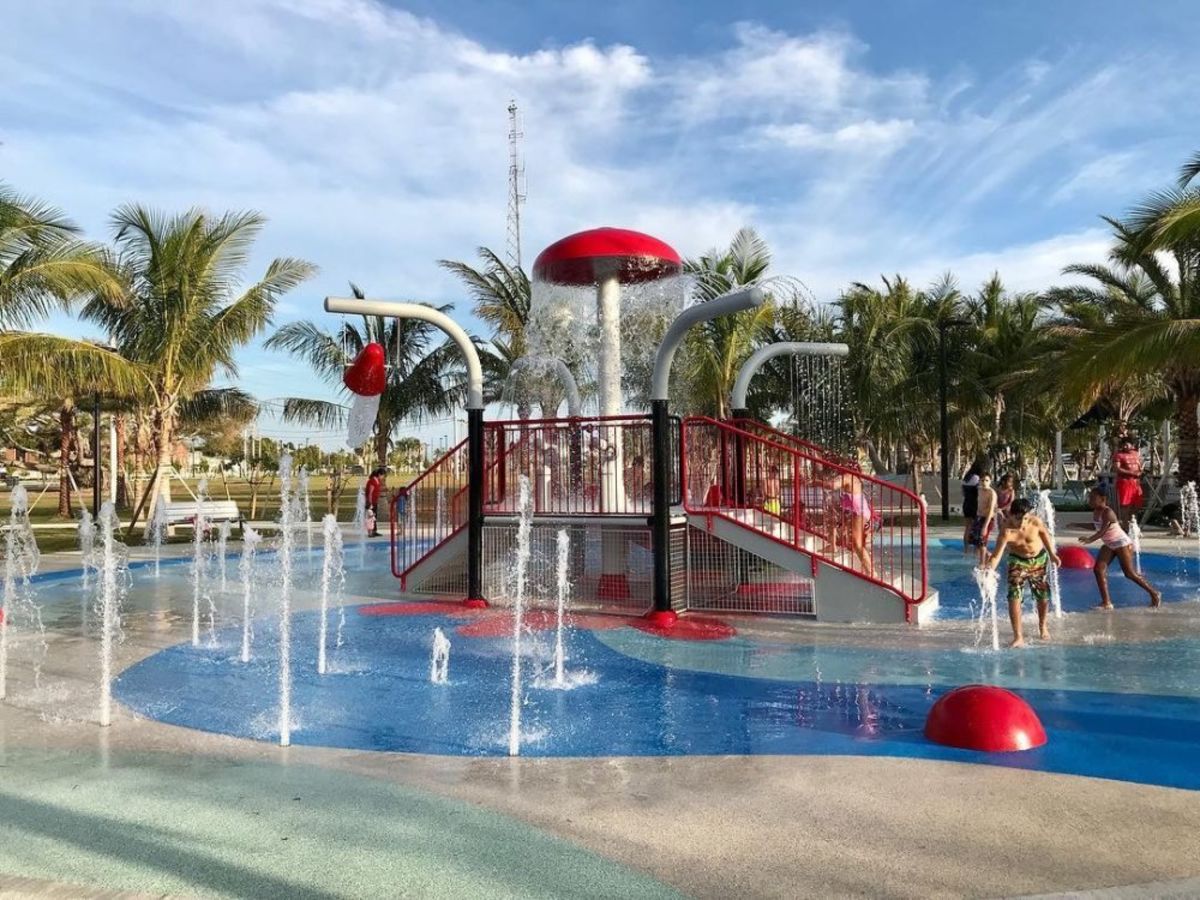 Truman Waterfront Park
This is perfect for the little ones and a fun and fabulous thing to do while visiting. The Truman Waterfront Splash Park is relatively new, and this is one of the most friendly and kid loved loved loved and approved attractions. The one problem you might have it the kids may not want to leave. In addition to the Splash Park, The Truman Waterfront Park has stunning views of the harbor and our legendary sunsets. It's just a little quieter than watching the sunset from Mallory Square.
"Absolutely beautiful new park. Took the munchkin here for the water park and she had a blast. I've been walking here every day, enjoying the view and taking advantage of the fitness path." ~ Rebecca K. from St. Petersburg, FL on Yelp.
The Truman Waterfront Park is located on Southard Street, en route to Fort Zachary Taylor.
Chill Out
Remember it's hot out there so make sure you and the family sttay hydrated. Drink lots of water or chill out and grab an ice cream or frozen treat.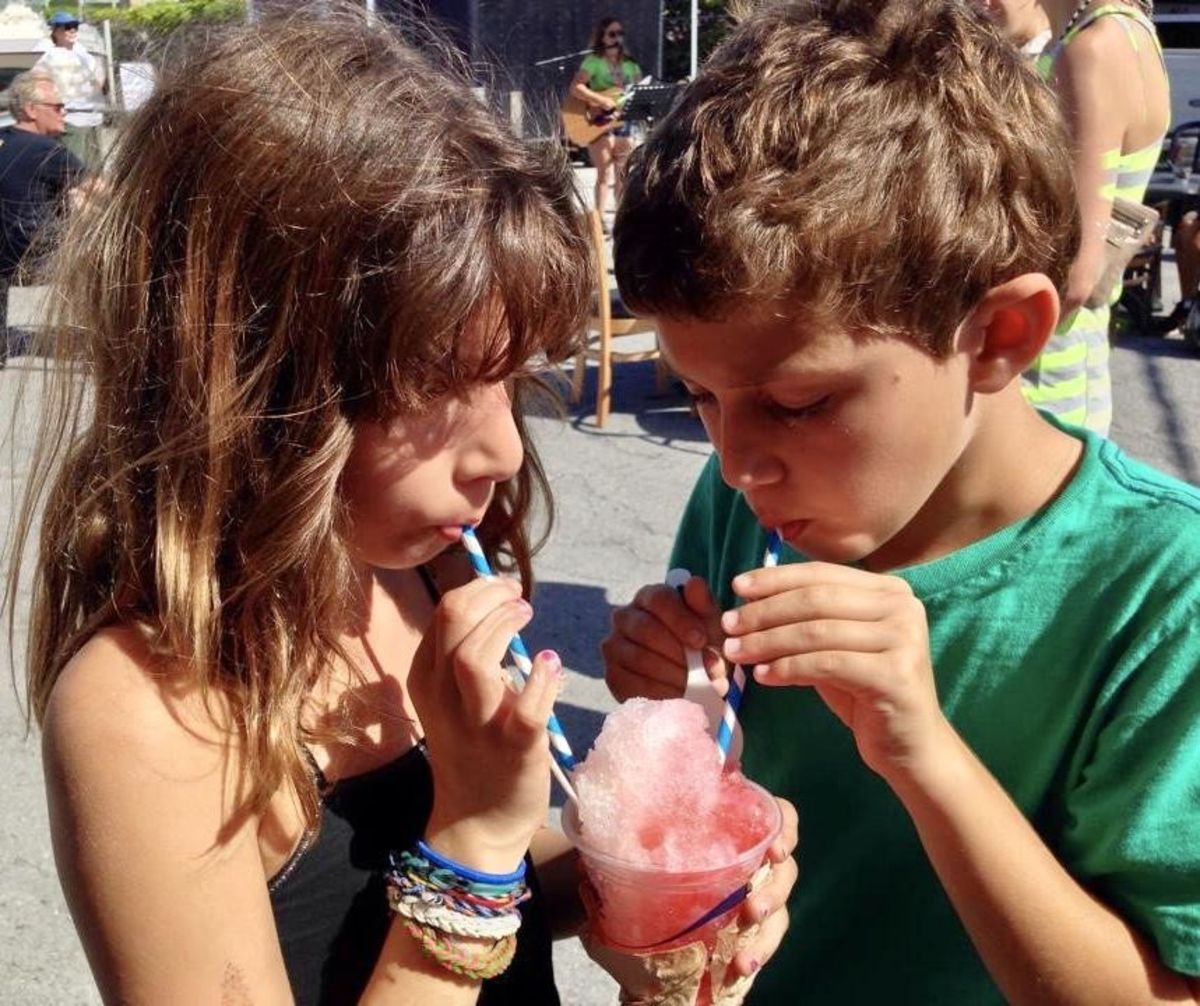 Eat Key Lime Pie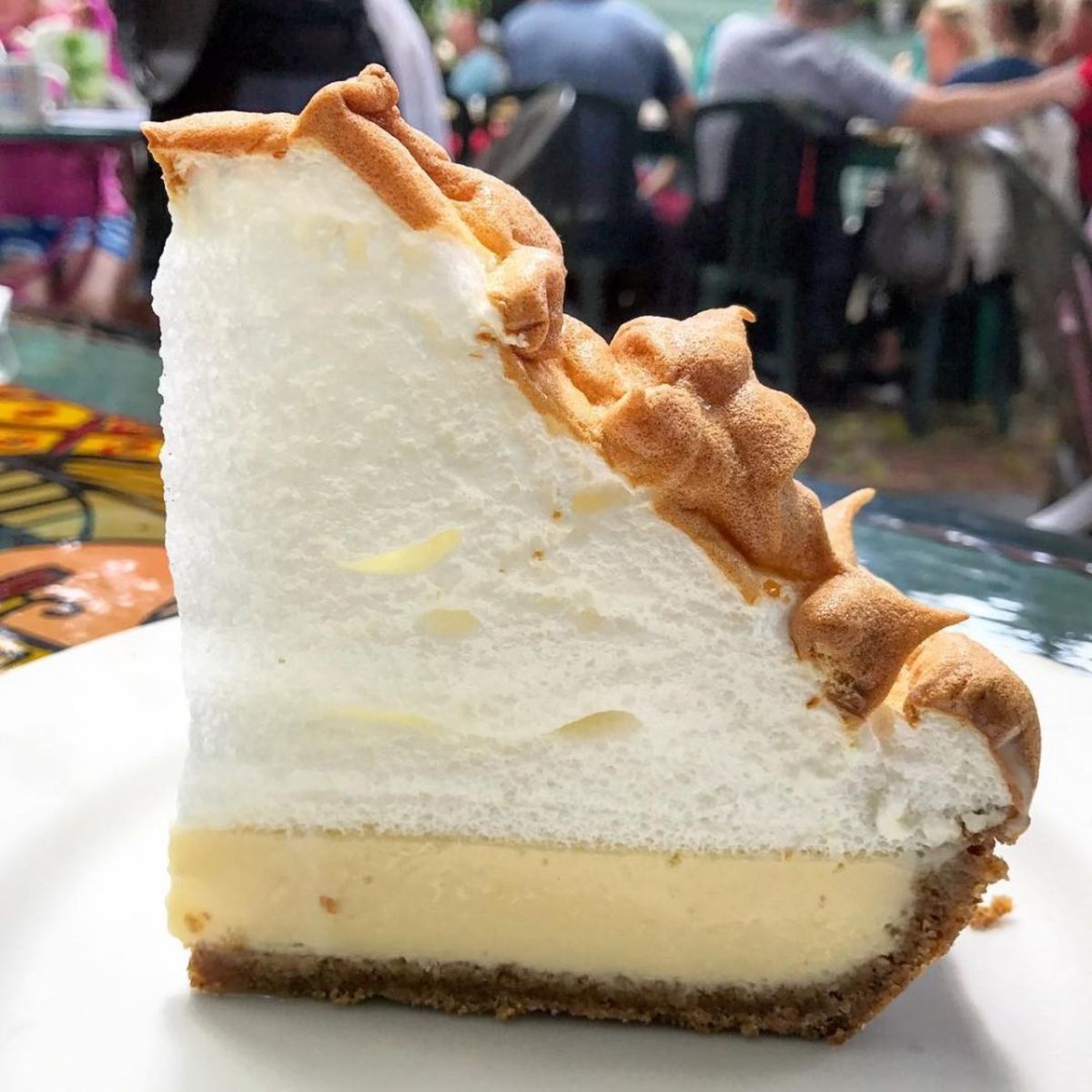 Photo credit: Stickaforkinme on Instagram via Tripstodiscover.com
You can't visit Key West without trying Key Lime Pie and trust us, the kids will love it! If you are wondering who has the best Key Lime Pie in Key West? It's not an easy answer because there are so many delicious restaurants and cafe's doing Key Lime Desserts their own way, but you can't go wrong if you visit Blue Heaven or Kermit's Key Lime Pie Shop. Did you know you can also get Key Lime Pie on a stick and dipped in chocolate? Key Lime Pie is a staple in Key West, so make sure to save room for our favorite sweet treat and remember it's always time for dessert!
Celebrate at Sunset at Mallory Square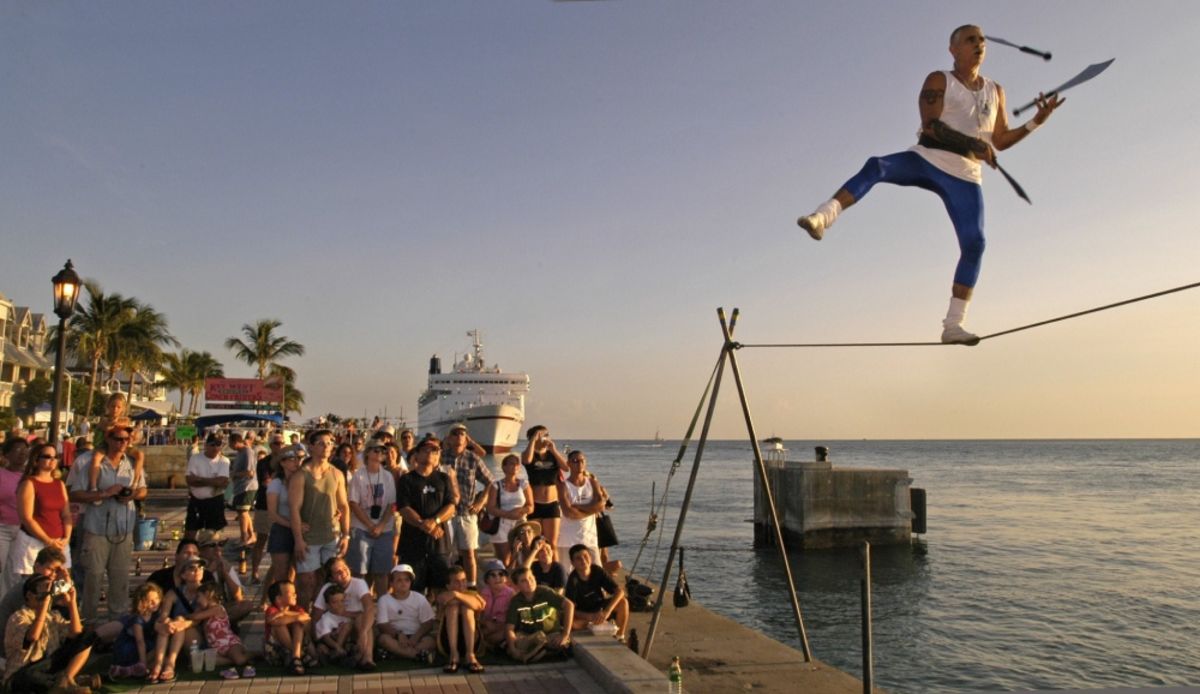 (Photo by Bob Krist/Florida Keys News Bureau)
A great way to end the day is by attending Sunset Celebration at Mallory Square where visitors from all over the world join together to celebrate the sun setting in paradise. It's not just watching the Sunset, it's a magical evening of entertainment by the sea. You' ll want to head over to Mallory Square at least two hours before Sunset, so you can enjoy the festivities. It's truly a sight to be seen as street performers, magicians, jugglers, clowns, Will Soto the tightrope walker extraordinaire, sword swallowers, artists, Dominique and his flying house cats, food vendors and so much more entertain you before the big event. Sunset Celebration at Mallory Square is one of those events you'll cherish forever must-see and do while visiting.
When: Sunset Celebration at Mallory Square begins two hours before Sunset.
Where: Mallory Square, 400 Wall Street, Key West
The best present you can give each other is to be present and what better place to do it all than in Key West! Family time is the best time of all, so we hope this blog gives you some ideas on what to do when you visit. #lovethemarker
Posted on 06/02/2019