Key West's Best Waterfront Dining
11/07/2017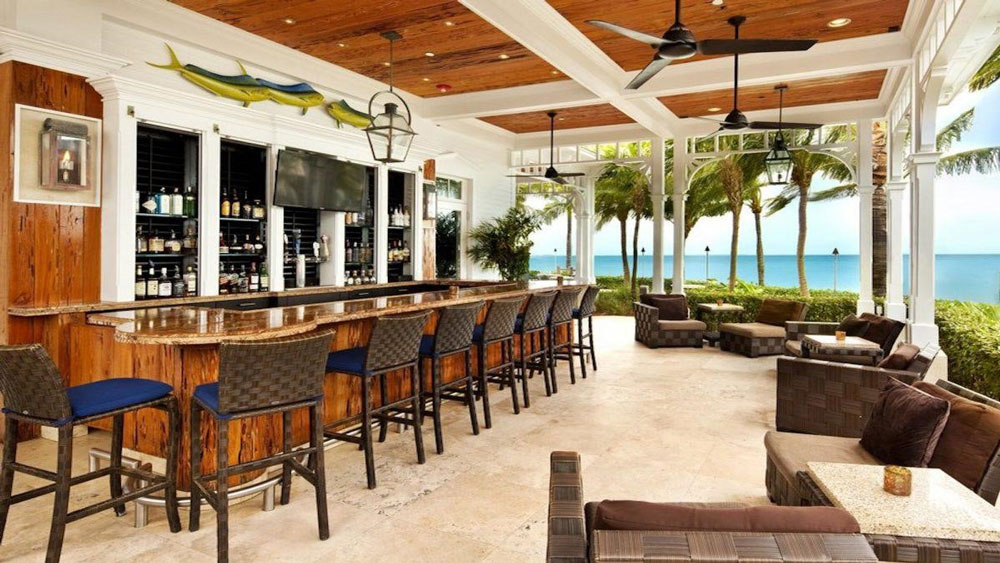 Photo Courtesy of Latitudes Sunset Key
Casual Elegance! Scenic Views! The Food! The best Key West Restaurants with ocean views paired up with island elegance and top chefs on the island are in walking distance to our Key West Hotel near the historic seaport. Here are our top three picks for best waterfront dining with views in Key West:
Hot Tin Roof

Hot Tin Roof has one of the best waterfront dining views of the harbor. Dine in or out and watch mother nature create spectacular sunsets while sipping on a cocktail and/or enjoying a romantic dinner in paradise.
What to expect? You can expect to see a menu inspired by traditional Florida foods with Latin, Caribbean and tropical influences - dubbed as "conch fusion." Open for breakfast, dinner and an unforgettable Sunday Brunch. The Sunday Brunch is more laid back where guests can enjoy endless Bloody Mary Bar and Bottomless Mimosas. Maybe that's why it's unforgettable! There really is not a bad seat in the house because there are lots of windows for water/sunset views.
Wondering how the restaurant got its name? The restaurant pays homage to one of Key West's famous authors and residents - Tennessee Williams, by playing on the title of his well known play "Cat on a Hot Tin Roof".
Daily Happenings: Martini Monday, Tapas Tuesday, Wine Down Wednesday, Throwback Thursday, Dayboat Friday, Brunch on Saturday & Sunday.
Location. Location. Location. Hot Tin Roof overlooks the popular Sunset Pier (decorated with brightly colored stools and umbrellas) at the end of Mallory Square. This is one of the best places to grab a drink before dinner and sunset.
Upscale dining at its best, "Hot Tin Roof"'s menu offers a Pan-Latin twist on Key West cuisine overlooking the harbor ~ Critic Review of Hot Tin Roof by USA Today 10BEST
Hours:
Breakfast Monday - Saturday 7:30am - 11:30am | Sunday 7:30am - 11:00am
Brunch: Sunday 11:30am - 2:30pm
Dinner: Daily 6:00pm - 10:00pm
Reservations: 305-296-7701
Reserve your dining experience at Hot Tin Roof.
Hot Tin Roof
0 Duval Street, Key West Florida
A & B Lobster House & Alonzo's Oyster Bar
Enjoy the freshest seafood on the island overlooking the marina at A&B Lobster House and Alonzo's Oyster Bar. A&B specializes in lobster, both from Maine and Florida, prepared with a delicate fusion of the classic and contemporary styles of the chefs. We can't just give them credit for the seafood, they also serve prime choice when it comes to their steaks. If you're looking for Surf N Turf this is the place to go.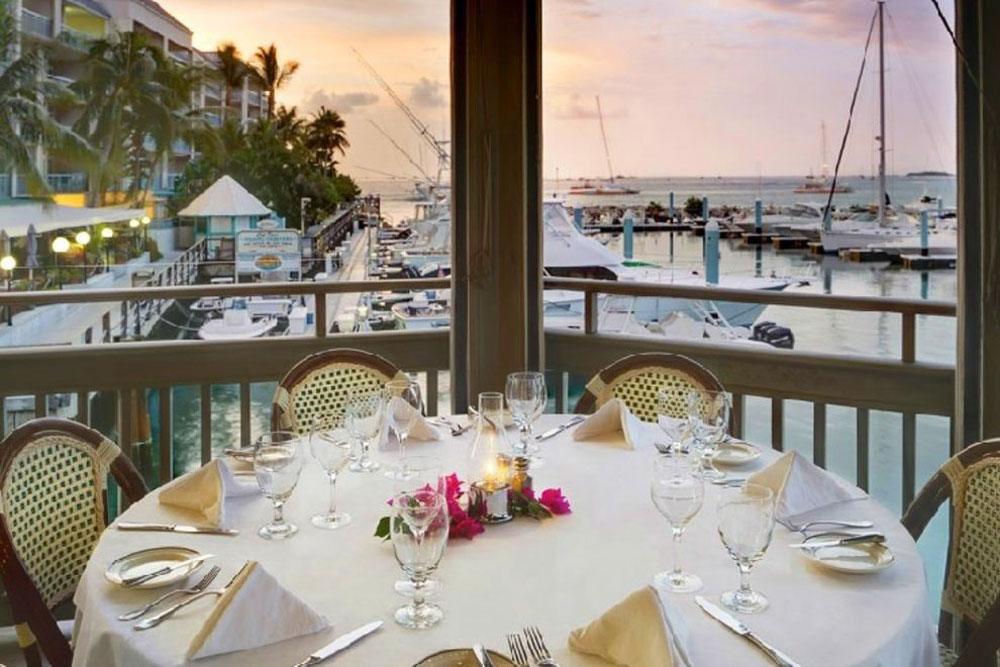 Photo credit A&B Lobster House via USA Today 10Best
A&B Lobster House is open for dinner from 6-10pm. Dine upstairs and outside on the wrap-around balcony or dine inside the beautiful timeless dining room.
Best for seafood: This this old-school seafood restaurant can host parties of 25 to 250 in its upscale atmosphere and stunning views of the Bight. ~ Critic Review of A&B Lobster by USA Today 10Best
Alonzo's Oyster Bar
If you love great seafood and Oysters this is the place to go! Located at A&B Marina at 700 Front Street, below A&B Lobster House, you'll find Alonzo's Oyster Bar. Alonzo's is a much more casual restaurant than A&B, offering a seafood-centric menu & full bar with daily happy hour. Alonzo's is open 11am - 10pm.
Alonzo's features the largest selection of warm and cold water oysters on the island. Sample them on the cheap during Happy Hour. ~ Critics Review of Alonzo's Oyster Bar by USA Today 10BEST
A&B Lobster House & Alonzo's Oyster Bar
A&B Lobster House Open 6-10pm
Alonzo's Oyster Bar open 11 am -10 pm
700 Front Street, Key West, FL
Reservations: 305-294-5880
Reserve your dining experience at A&B Lobster House
Latitudes on Sunset Key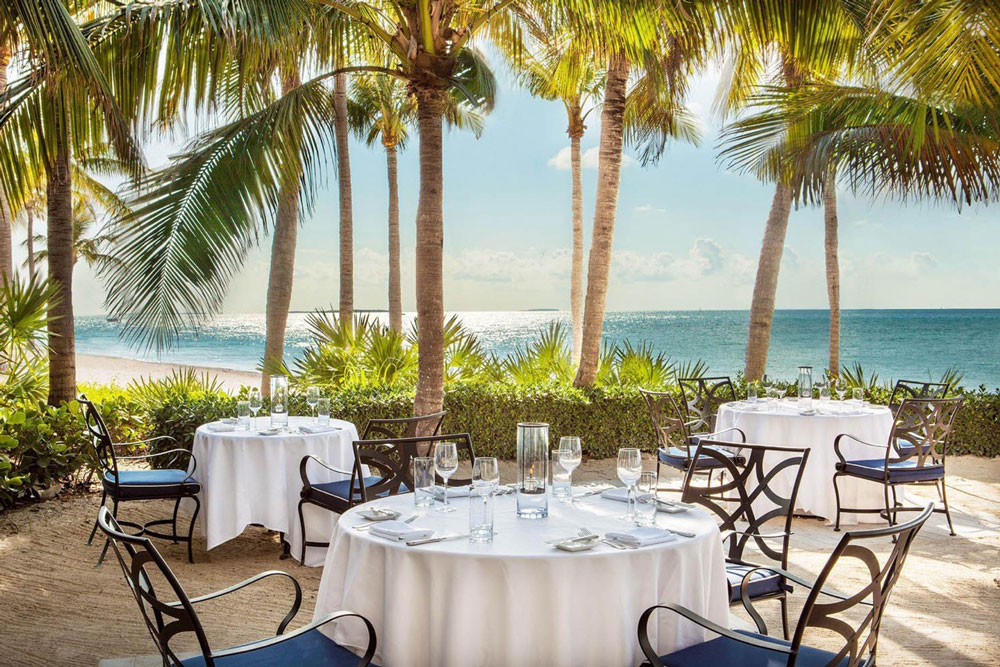 Photo Credit: Sunset Key | Dining at Latitudes
Award-Winning! Fine Dining! Island Elegance! That's just a few ways to describe one of the most unique dining experiences on the island. Welcome to Latitudes!
Located on the secluded Sunset Key, Latitudes serves a fresh flavorful island cuisine with swaying palm trees, ocean breezes and gorgeous views of the Gulf of Mexico. The only way to get there is by taking an 8 minute boat ride from Margaritaville Resort.
Awards & Accolades
Latitudes It has been named one of Opentable's 100 Most Scenic Restaurants in America for 2017! Additional awards include #1 Best Overall Restaurant in Key West by OpenTable in 2016, and one of the 100 Most Romantic Restaurants in America for 2017. Learn more about Latitudes Menu and exceptional dining experience in paradise.
ZAGAT named it one of the 8 Hottest Restaurants In Key West.
Indulge in a little luxury, as you and your honey escape to this private island for elegant toes-in-the-sand dining and panoramic Gulf views. After a quick ride on the ferry across the Key West Harbor to Sunset Key, settle in at Latitudes for dinner and a show--the stunning sunset… ~ Critic Review of Latitudes by USA Today 10Best
Latitudes on Sunset Key
Breakfast: 7am - 11am
Lunch: 11am - 2:15pm
Dinner: Sunday - Thursday 5pm - 11pm, Friday & Saturday 5pm - 11pm
Reservations are required. Reserve your dining experience at Latitudes today.
Important to know: Your reservation time is actually your boat departure time. You will need to head over to boat slip 29 in the Margaritaville Resort Marina, 245 Front St. Please arrive 5-10 minutes prior to your departure time to check in with the boat hostess.
Now that we've shared the best Key West dining experiences with you, we look forward to hearing all about yours. Snap a photo or two and share it with us. #lovethemarker
Posted on 11/07/2017