10 Days of Fantasy Fest Key West
10/10/2019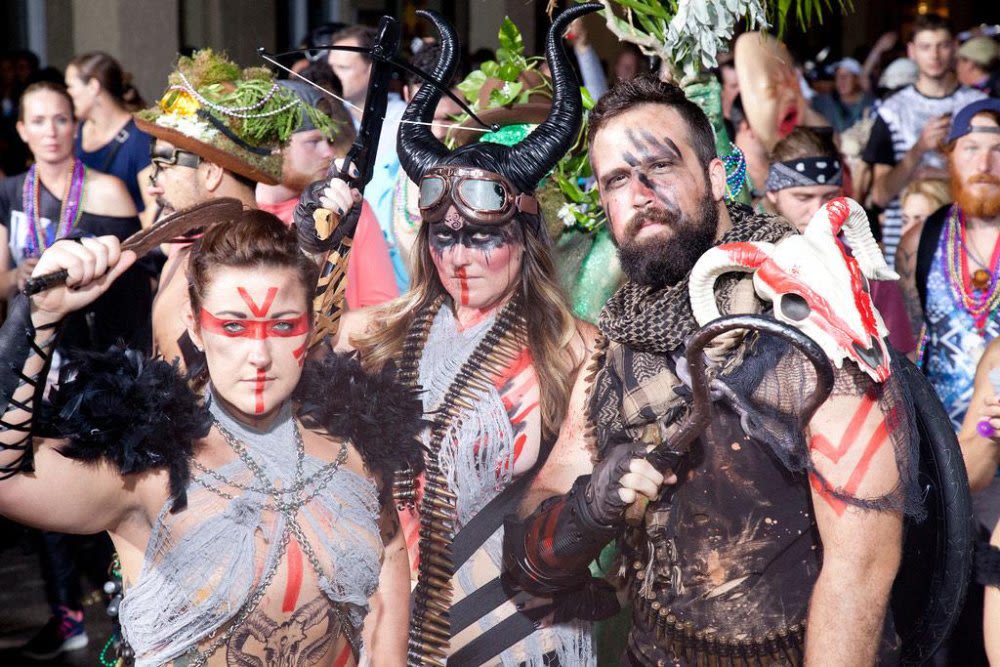 Spotlight on the top ten Fantasy Fest Events
Let the countdown begin! It's time to get in tune to Key West's biggest celebration: Fantasy Fest, October 18 -27, 2019. So many parties, so little time and that's why we want to share our Top Ten Fantasy Fest Parties and Events you should attend this year. The 2019 theme is "IN TUNE BUT OFF KEY: CELEBRATING 40 YEARS OF FANTASY!" Have fun, get creative, and bring plenty of costumes so you can get dressed up or down and enjoy all the festivities. As promised, here is a list of ten festival themed celebrations, we put a spotlight on one event per day (sometimes more) and highly recommend you check them out.
Photo Credit: Fantasy Fest
Friday, October 18th and Saturday, October 19th
GOOMBAY
It's Goombay, a locals favorite Fantasy Fest event held Noon-Midnight in the heart of Key West's historic Bahama Village. Enjoy the food, the music, and Key West vibe during this exuberant street party showcasing the island arts and crafts, music and food.
Sunday, October 20th
ZOMBIE BIKE RIDE
Zombies take over Key West! It's the Zombie Bike Ride.
Rise from the dead and join your newly awakened zombies as they gather at Zombieland in Fort East Martello at 2 PM to get their blood flowing, bodies painted, and mid-afternoon snack from 2-6 PM. Hop on your bike and join the thousands of costumed zombies at 6 PM when the zombie invasion heads down US1 to Duval Street for the Zombiefest in Downtown Key West. Register now at Zombie Bike Ride $5.00 entry
ZOMBIEFEST OFFICIAL AFTER PARTIES
Join us after the Zombie Bike Ride and keep the party going with music & dancing in the streets all night long at the following
Official After Parties- Tiki House - Bagatelle - Sloppy Joe's - Irish Kevin's - Mangoes - Green Parrot.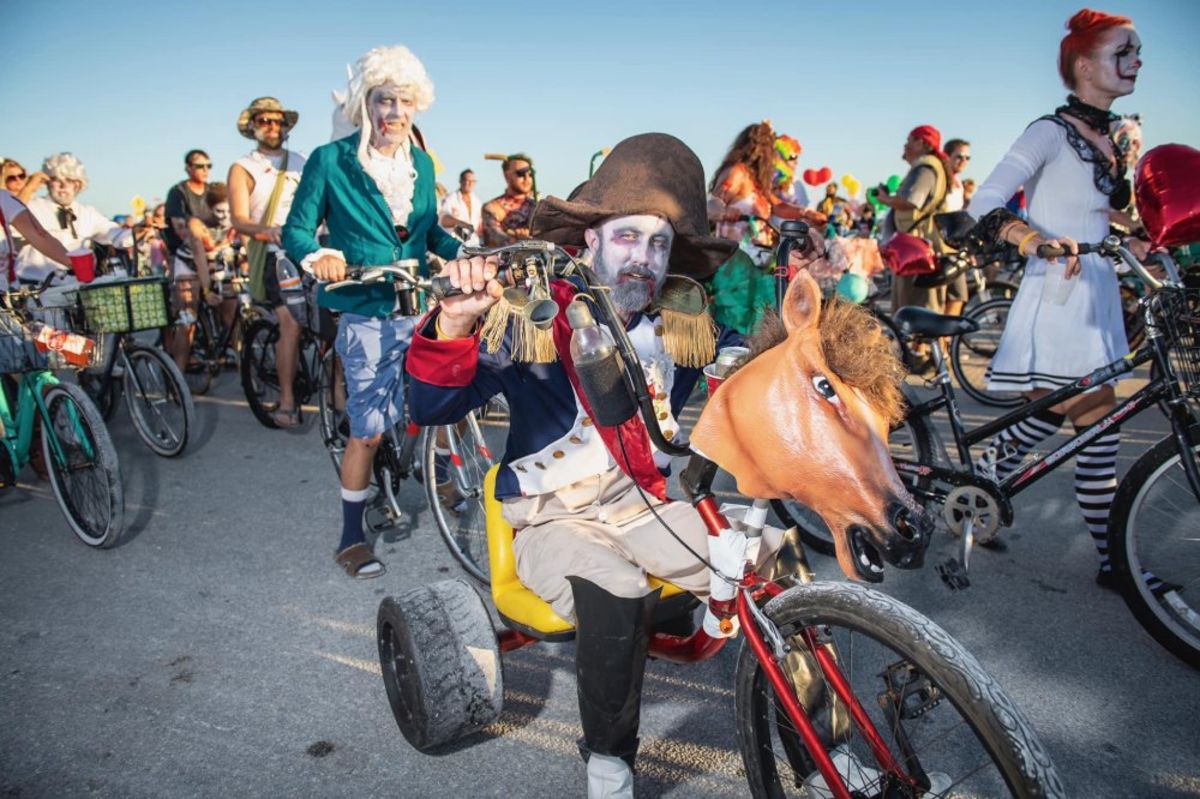 Photo Credit: Zombie Bike Ride
Monday, October 21st
HEROES AND VILLAINS RUN/WALK 5K & SOUTHERNMOST FANTASY FEST LUAU
Be SUPER, be EVIL, be AWESOME and get your run on! Dress up as your favorite Superhero or Super Villain and run, walk or fly to the finish line. The first 400 to register get a custom designed puzzle piece finisher medal! Race starts and finishes near the beach at the Southernmost Beach Resort parking lot, behind the La Mer House at 506 South Street. (You can also see it behind the Southernmost Beach Cafe.) The racecourse goes through historic Old Town Key West. Free beer and snacks after the race. Be part of the Fantasy Fest family-friendly FUN! For registration and information: Theme Runs.com.
SOUTHERNMOST BEACH BBQ
REFUEL with us at the Southernmost Beach BBQ after you conquer the SUPER, EVIL, AWESOME Heroes & Villains Run/Walk 5k. Enjoy our Beach BBQ with your toes in the sand and a drink in your hand. Southernmost Beach Resort, 1405 Duval St. 305.295.6550. 6:30PM. $30++ per person. Buffet includes: BBQ Chicken, Smoked Pulled Pork, Cobb Salad, Watermelon Salad, Roasted Potatoes, Grilled Corn.
Tuesday, October 22, 2019
TUTU TUESDAY (that means bringa a TuTu)
TUTU TUESDAY PRE-PARTY WALKING PARADE BAR CRAWL
Put on your fancy pants tutu for the 10th Annual Tutu Tuesday Decade-Dance! The pre-party begins at Mary Ellen's with a TuTu Costume Parade! Join us as we parade through downtown and make a few fun stops along the way. Walking Parade Floats encouraged (no motorized floats, please). Parade stops include: Mary Ellen's First Flight, Tiki Bar, Shots & Giggles, Rick's, and General Horseplay for TuTu fun! $35 per person includes shots at all stops and tutu party wristbands ($20). YOU WILL RECEIVE A WRISTBAND AT MARY ELLEN'S DURING PRE-PARTY. NO ENTRY TO TUTU PARTY WITHOUT WRISTBAND OR TUTU! Click here and buy your tickets today. Mary Ellen's, 420 Applerouth Lane, 305-916-5816
11th ANNUALTUTU TUESDAY PARTY
For the 11th Annual TUTU Party - Come in your favorite tutu themed costume. We Will be celebrating the glory of the TuTu and all of its wonderment! Doors open at 7 PM, $20 wristband admission, General Horseplay Complex-- ONE PARTY IN FOUR BARS, 423 Caroline Street, No TuTu - No Entry, Tickets can be purchased at General Horseplay Complex, 423 Caroline Street beginning 10/20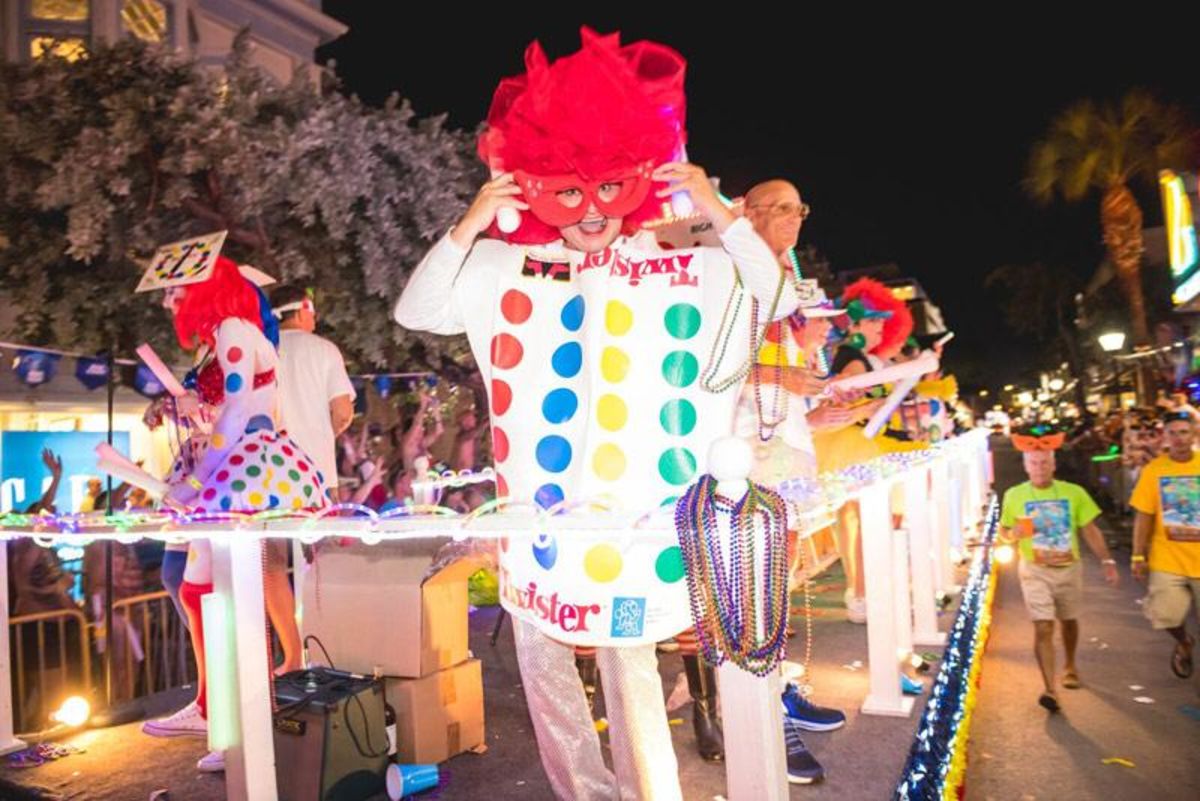 Photo Credit: Fantasy Fest
Wednesday, October 23, 2019
PET MASQUERADE at it's new location, The Key West Amphitheater
The Pet Masquerade is excited to announce that you will see this year's carousel of frisky pets and playful owners performing for fame, fortune and prizes beginning at 6:30p on the stage of the Key West Amphitheater at the Truman Waterfront Park! Think you and your furry, feathered or slithery friend have the perfect outfit? 4 categories to enter including Junior-$25 each entry; benefits the Lower Keys Friends of Animals; Registration begins at 5 PM; Show starts at 6:30 PM; FREE to watch, plenty of FREE seats available or bring your blanket and lawn chair. NO COOLERS. Food and beverage available on site. 21 E. Quay Rd. For more information, visit our Facebook Page or email petmasquerade@gmail.com.
WHARFSTOCK AT THE SCHOONER WHARF BAR
"Travel back in time to the '60s, with Peace and Love Woodstock-style. It's tie-dye, flower power, and psychedelic colors in a time capsule of the era at Schooner Wharf Bar. The Party starts at 7 PM. Prizes for sexiest Hippie Chick and Grooviest Dude -- judging at 8:30 PM. Enjoy live music and dance to tunes that reach back in time from Gary Hempsey and That Hippie Band from 7-midnight, plus cold drinks and great galley fare. Emceed by Magic Frank Everhart. Winners will receive cash prizes and gift certificates. 202 William St.; 305-292-3302; Starts at 7 PM; judging at 8:30 PM. No cover charge or entry fee." -7525 9 PM
Thursday, October 24, 2019
TOGA or 80's PARTY or Both!
SLOPPY JOE'S 40th ANNUAL TOGA PARTY
Toga! Toga! Toga! Sloppy Joe's Toga Party is "An ORIGINAL Fantasy Fest Event." Get your toga ON and find out why we are "Still The Best Toga Party in Town!" Transport yourself back in time with a traditional ancient Toga or dare to create your Toga using Fantasy Fest theme "In Tune but Off Key " Best Togas will win Sloppy Joe's gift cards throughout the night. At 9:30 PM, we'll have a Toga Ceremony to award the best Togas. Groups of 2 to 8 people may participate in Ceremony. Sign up next to the stage between 8:00 PM-9:15 PM for ceremony at 9:30 PM. Audience will choose the winner. First Place $300 Sloppy Joe's Gift Card, Second Place $200 Sloppy Joe's Gift Card and Third Place $100 Sloppy Joe's Gift Card. Contestants must be dressed in a toga and are encouraged to dress in the Ancient Roman theme or be creative using the Fantasy Fest theme "In Tune but Off Key." for their toga. Bodypaint is not a toga but may be used as part of the toga costume. Free to participate. Limited Toga sheets are available for purchase in the Sloppy Joe's Retail Store for $10 (Proceeds to AH of Monroe County ). Cherry on Top Band from Cincinnati, OH on stage after Toga Ceremony. Sloppy Joe's 201 Duval Street. Door charge.Live Stage CamLive Bar CamLive Crowd Cam
IRISH KEVIN'S ANNUAL 80's PARTY
If you love rock and roll as much as we do, come bust a move at Irish Kevin's annual 80's party! Prepare your leg warmers and Members Only jackets. Dress head to toe in your best 80's costume with awards given throughout the day. We have live entertainment from open to close, but at 10:30 PM our full 80's band will keep you fighting for your right to party into the wee hours of Friday morning. 211 Duval St; 305-292-1262; 10:30 PM; $$.
Friday, October 25, 2019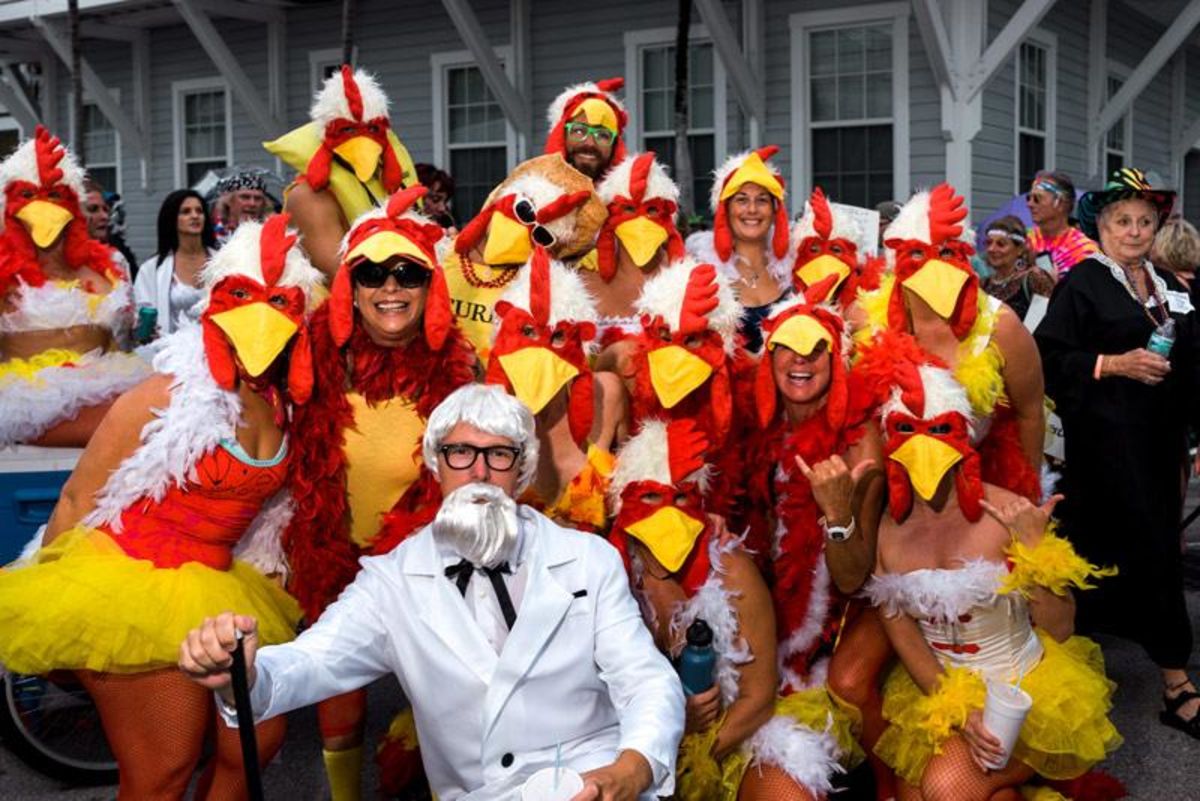 Photo Credit: Fantasy Fest
MASQUERADE MARCH a/k/a The Locals Parade (one of our favorite events)
Join the crowd as they parade through Old Town with music and noisemakers! Thirst quenchers provided at selected guesthouses. The Masquerade March is a grown-up moving cocktail & dance party that begins at the Frances Street entrance of the Key West Cemetery but revelers can join the mad march anywhere along ONE route! Start marching at 5:30 PM; All welcome; FREE.
Saturday, October 26, 2019
BUD LIGHT FANTASY FEST PARADE
Join 70,000 exuberant partygoers as this year's Bud Light Fantasy Fest parade rolls down Duval Street. Featuring glittering floats, spectacular costumes and dazzling dancing groups! It doesn't get any wilder than this! Parade steps off at 7 PM; FREE.Live Southernmost Point WebcamSloppy Joe's Live Crowd CamLive Duval Street CamLive Irish Kevin's Cam
Sunday, October 27, 2019
"THE FAT LADY SINGS" TEA DANCE
As the saying goes, "It ain't over 'til the fat lady sings." Everyone will be at La Te Da from 4 PM to 8 PM for the last official event of Fantasy Fest 2018. DJ Rude Girl provides the music for the very last hoorah! La Te Da - Hotel, Restaurant, Cabaret and Bars, 1125 Duval St.; 305-296-6706; $5.
View the 2019 Fantasy Fest Schedule of Events.
Don't forget the Marker Resort Fantasy Fest Events
Rock and Roll Revitalizing 1960's Pool Party
October 23rd 1-4pm at The Marker Resort
Presented by Blue Chair Bay Rum
Let us take you back to a groovy time full of Tom Collins, Pink Squirrels and Greyhounds; when the bikini became every woman's new purchase, mini-skirts crept into closets and good ol' Rock and Roll was heard from every radio station and record player in the United States.
Dress in your favorite vintage swimsuit, psychedelic patterns and platform shoes and join us at the Marker Waterfront Resort for The Sixties Pool Party. Boogie down to live music your old man might not approve of, sip on a few of our nifty drink specials and have a guaranteed far out time. Do you dig?
BART - Bar and Art Stroll! (Don't forget to check in at The Marker)
October 21-27
BART is a self guided wander along the docks at the Historic Seaport between Conch Republic Seafood Company and Dante's with stops at Half Shell Raw Bar, Turtle Kraals, Waterfront Brewery, Schooner Wharf Bar and The Marker. Check in at participating bars using #BARTKW and a photo of the figures and sculptures and you will have a chance to win vintage Fantasy Fest t-shirts and swag
Do you have a favorite Fantasy Fest Event? Tell us about it and share your memorable moments with us! #lovethemarker
Posted on 10/10/2019