The Best Key West Eco Adventures for Small Groups
05/22/2019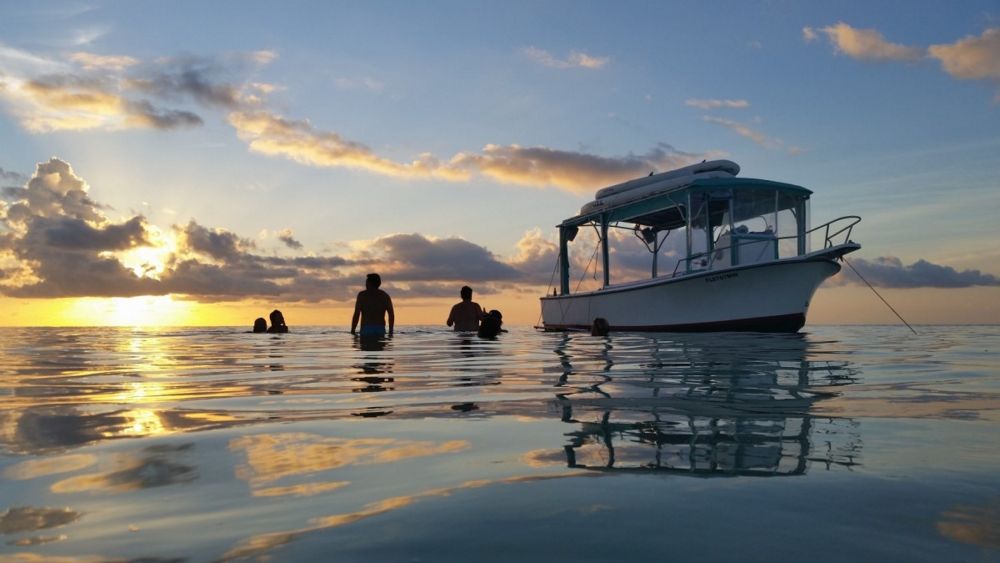 There are so many incredible adventures to be had during your visit to the Keys, and today we want to guide you to the best water adventures that are perfect for smaller groups and offer an abundance of attention from the captain and crew without the crowds. If you are still searching for an uncrowded and more intimate excursion, don't worry, we've got you covered. So without further ado, here are some of the best Key West Eco Adventures for small groups: Honest Eco, Floridays, and Key West Eco Tours.
We are thrilled to introduce you to Honest Eco, an honest and true eco-adventure with a captain and crew that have a deep passion and purpose of protecting what they love.
"People protect what they Love," Jacques Cousteau said it, and we think it explains our purpose at Honest Eco. To do our part for conservation, we work to blend education and beautiful experiences in hopes of being a matchmaker- to help people fall in love, grow in love, or renew their love for the world we share.'
Photo credit: Honest Eco
Guided Tours
Honest Eco offers small group Dolphin Watch, Kayak and Snorkel eco-tours and SUP Yoga.
Dolphin Watching & Snorkeling is a 4-hour trip, 9 am, and 2 pm trips depart daily from the Historic Seaport at 231 Margaret Street, (steps away from our resort) Includes Fruit, Water, Snorkeling and Fun! $97 p.p. (plus tax)
Kayak and Snorkel Tour A 4 ½ hour guided kayak and snorkel tour through the mangroves off of Key West where you'll encounter sea turtles, dolphins and more. 6 Guests Max, 9:30 am. Morning trip. Afternoon trip includes Sunset (Times Vary), Vegan Snacks and Water, $97 / per person (plus sales tax.)
SUP Yoga Another Honest Eco adventure includes a journey into the wildlife refuges of Key West. Trips depart at 8:00 am - 6 days a week, $105/person, 6 person maximum.
The Boats
Let's talk about the boats! Honest Eco thought carefully thought about how they would be transporting their guests, and when you arrive, you'll see what we are talking about.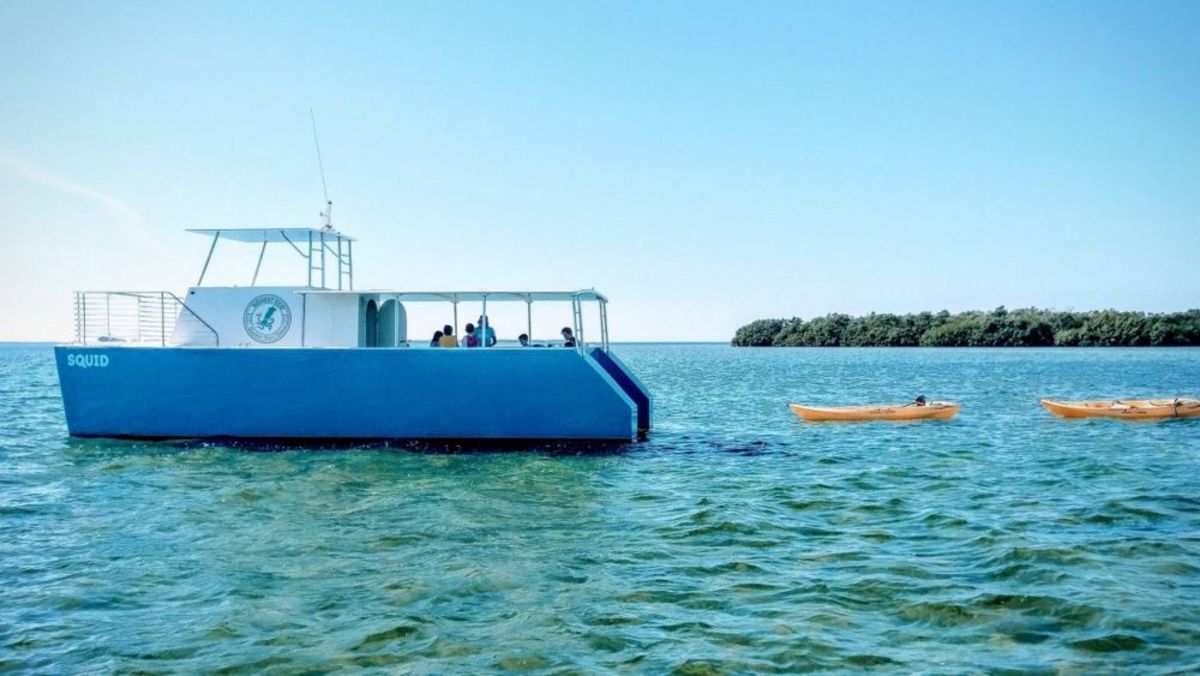 The Squid - Photo Credit Honest Eco
Did You Know
"The Squid" is the world's first self-built solar powered Dolphin Tour Boat. It's Key West's first Electric Powered charter boat and one of the first near coastal hybrid catamarans to make it through the challenging the United States Coast Guard certification process.
The Honest Eco team worked with David Walworth, an MIT educated Naval Architect and Principal Engineer known for his high-efficiency catamaran designs to help design and engineer the perfect boat for their trips. The Squid was built from scratch just for you!
E.O. Wilson is another one of their boats and perfect for a Key West Eco Tour in the shallow backcountry waters of the Key West National Wildlife Refuge. Learn More.
What People Are Saying:
Don't miss this trip! Don't leave Key West without booking a trip with Honest Eco. The day is fabulously crafted and well-planned out down to the last detail. Knowledgeable staff, gorgeous boat, and beautiful views, you will not be disappointed. A must-do trip while in Key West. ~ Ashleighluella via TripAdvisor
Learn more about Honest Eco Rates and Availability.
Snorkeling and Sunset Cruise in Key West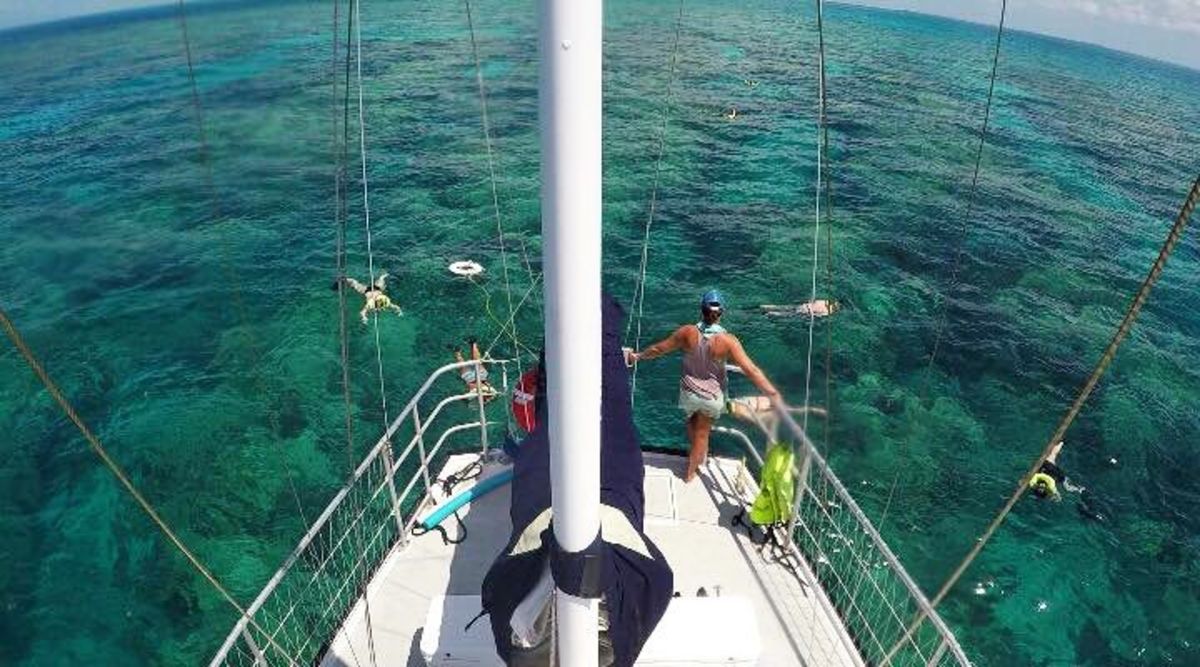 Daily snorkeling adventures and sunset sailing trips in Key West, FL on a 60-foot yacht. Unhurried, unhasseled, uncrowded. (Photo credit: Floridays on Facebook)
The Adventures
Snorkeling Adventure, Key West Sunset Sail, or a Personalized Private Charter. Big boats for small groups. Floridays is a 54' sailing yacht that offers morning mimosa sails, dailiy snorkeling trips to the the reef and spectacular sunset sails.
Snorkeling Adventure - A three-hour snorkeling adventure to the worlds third largest coral reef. There are several reefs to choose from on both the north and south sides of Key West, each offering a unique experience.
Sunset Cruise
Get ready for a 1 ½ hour spectacular champagne sunset sail celebration that delivers exceptional personal service and attention to detail.
Good to know:
Floridays will provide quality sanitized mask, snorkel, fins, and flotation vest. Complimentary beverages to include water, soda, white wine, a selection of national and craft beers, margaritas and Champagne. Remember they take a limited number of guests, so book in advance.
What People Are Saying:
Perfect! Floridays first class crew and sailboat were the perfect choice for our sunset cruise. Nice selection of adult beverages, especially the champagne! We had a fabulous time and will definitely sail Floridays next time we're in Key West! ~ starfish1961 via TripAdvisor
Floridays is conveniently located at 601 Front Street, at the Hyatt Centric Resort and Spa in Key West.
Learn More about Floridays Rates and Availability.
Sail, Kayak, Paddle-Board, and Snorkel with expert guides and experience marine life, bird watching, and more with our friends at Key West Eco Tours. This is another popular small group guided tours offering a unique outdoor adventure led by local nature guides.
Dolphin Spotting! Photo credit: Key West Eco Tours
The Tours
Backcountry Kayak & Paddleboard Tours
A half day (AM or PM) of sailing, guided kayaking and snorkeling in the Key West Wildlife Refuge. The small group tours are offered at the Geiger Key Paddle Hut or aboard the 31' Java Cat docked at the Key West Historic Seaport. Don't worry about getting to Geiger Key, Key West Eco Tours will pick you up! The tour at the Historic Seaport is in walking distance from our resort so no need to worry about transportation for that tour.
Sunset Sail aboard Java Cat and watch the sunset during a 2-hour private evening sailing tour. This is an exclusive and intimate sunset cruise for a group of six or less so grab your friends and watch a spectacular light show at sea as the sun sets in paradise on the Java Cat.
Sail, Kayak, Snorkel aboard 32' Java Cat ~ Snorkel, kayak, and cruise on this 4 ½ -hour tour of Florida's Key West National Wildlife Refuge.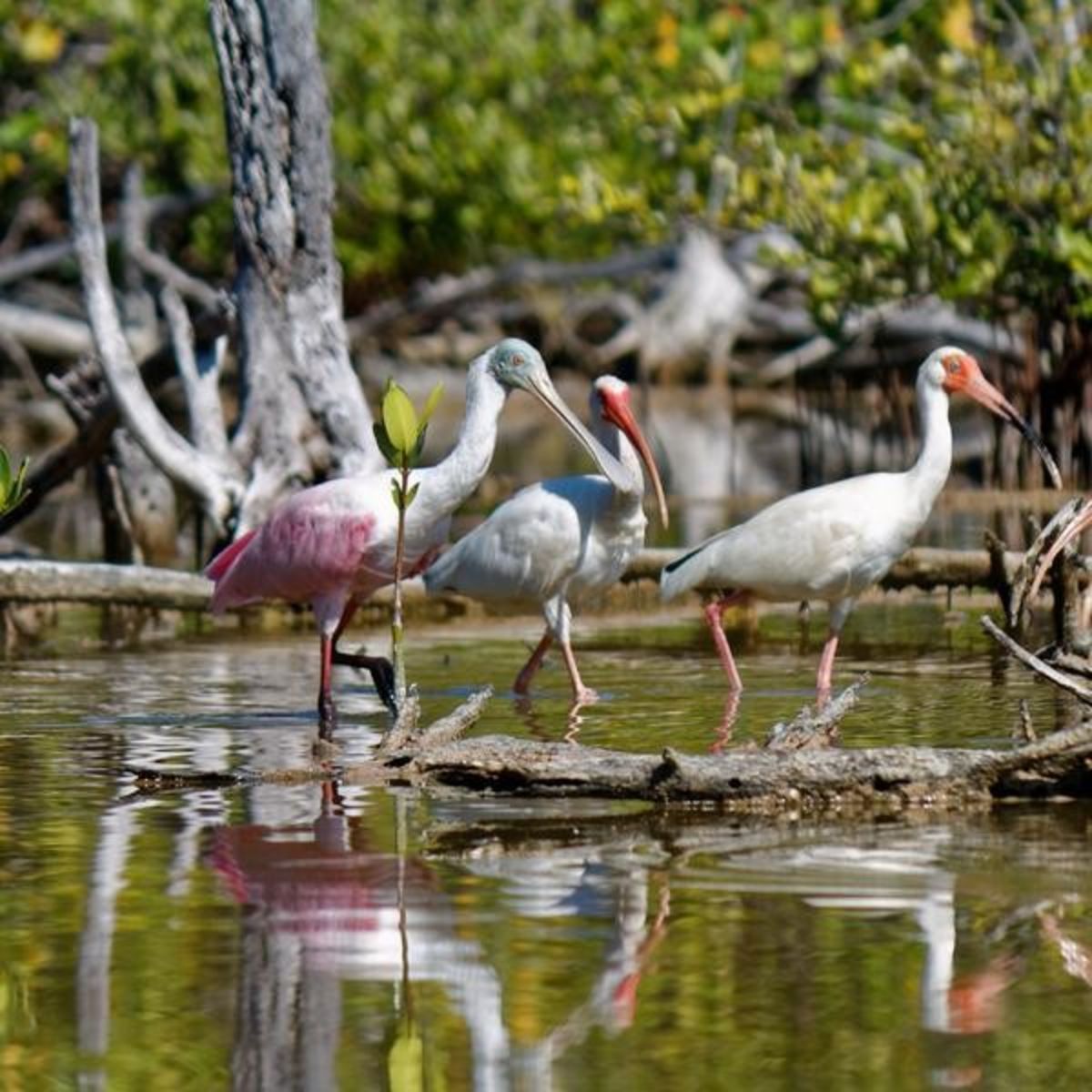 One of the favorites is the Guided Kayak & Paddleboard Backcountry Tour where you'll see the onders of Key West's mangrove ecosystem. (Photo credit: Key West Eco Tours)
Customized Private Charters are also available.
What People Are Saying:
Best Eco Tour in the Florida Keys! There is no better eco tour in the Florida Keys than this one. The captains are outstanding and the owners are charming. This is a family owned and managed tour and it shows. All of the guests get personal attention and the tour itself is memorable~ michaelhM9008IX via TripAdvisor
Learn more about Key West Eco Tours Rates & Availability.
Less is more when it comes to a more personalized adventure at sea, and now that you've learned a little bit more about the best eco-adventures for small sized groups in Key West, we hope you will book a trip with one of them and share your encounters with us by tagging us #lovethemarker. We can't wait to hear all about it!
Posted on 05/22/2019